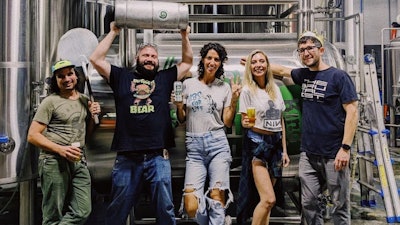 The Brutalist is a 3,500-barrel/year collaborative contract brewing facility in St. Petersburg, Fla., headed by Aric Parker of King State Beer. The Brutalist has its own line of branded of brews that it sells out of its taproom, Temple of Beer. And as a contract brewer, it sells brewing and packaging capacity to high-end craft brewers looking to scale with the help of higher-volume professional equipment. Meanwhile, King State Beer—the beer-brewing arm of a King State operation that's also known as a coffee roaster, coffee cold-brewer, and breakfast and cocktail bar—owns The Brutalist Brewery and in a sense is its own biggest customer with its line of branded King State Beer varieties. Perhaps this unique arrangement makes for a tangled web of stakeholders, but it's hard to complain when the result is innovative, artisanal craft brew under an evolving variety of banners, brands, and titles.
"King State's lineup has our lagers and more traditional styles, with the occasional sour. The Brutalist tends toward on-trend brews like hazy IPAs or pastry stouts, and we have the freedom to take it wherever we want. And finally, our contractors are mostly smaller breweries or sophisticated home brewers that are willing to pay a premium to grow their footprint or up their production," Parker says, disambiguating the three primary constituencies of King State, Brutalist, and contract work.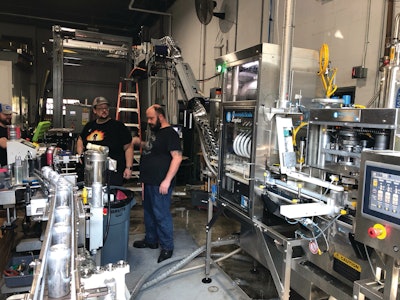 As he built out the brewery's new canning line in June of 2022, Parker began with the filler/seamer, working backward from there. After some extensive comparison shopping, he landed on a 50-can/min CB50C integrated counter-pressure in-line filler and seamer from Pneumatic Scale Angelus (PSA), a BW Packaging company.
"I selected the PSA for the counter-pressure functionality in particular, and I think of the Angelus seamer as the industry best," he says. "At first, I saw some other competitors' counter-pressure fillers and I wasn't particularly impressed. But then a friend dragged me to another brewery where I saw the PSA in action, and I met PSA at the Craft Brewers Conference soon after. By then, I definitely knew that that's the one I wanted—especially for the price, too. We're in the teens for dissolved oxygen [parts per billion]—usually sub-ten. PSA has been amazing. I love that line."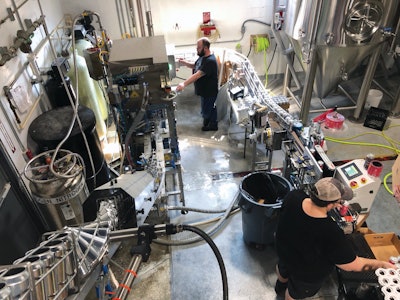 The packaging line
With the filler and seamer selected, Parker turned to Ska Fabricating, which PSA had recommended for depalletization. He chose a Ska Can-i-Bus overhead depalletizer for the front of the line, and that relationship grew to Ska also working on both line layout and integration. Depalletized cans travel through an integrated twist rinser to reach the PSA filler and seamer.
Parker was able to source a few used pieces of equipment that would fulfill downstream operations, namely two used Videojet date coders and a used Pack Leader USA 501 labeler. The Brutalist and King State both stock their own p-s labels for application on the labeler, and contracting brewers supply their own rollstock to the brewery's specifications.
Instead of multipacking beers into cartons, traditional plastic, or newer HDPE can handles, The Brutalist is one of an increasing number of breweries that have opted to shift to paperboard can handles. The brewery uses a WestRock system consisting of its paperboard CanCollar 6-pack can holders that are applied by a manual can multipack station, called the Chunk. This system includes a collapsible side table for compact footprint, supports multiple can sizes with one simple height adjustment (The Brutalist does 12- and 16-oz cans), and has an ergonomic, height-adjustable operator handle.
"We went the paperboard can handle route for a couple different reasons," Parker says. "In particular, we did it for environmental reasons as [the system] uses 90% less plastic. Also, if we eventually decide to buy [the CanCollars] in bulk, it gives us a design advantage because we can have their tops printed any way we want. Multipacks can be branded King State, or The Brutalist, whatever we want it to be. On top of that it's also cheaper than the high-end HDPE can handles, which is nice as well. It's a threefold advantage for us."
At this point, MOQs don't allow the brewery to source printed CanCollars. Given their lay-flat 2D dimensions, a typical MOQ of a pallet of can handles equates to as many as 81,000 cases of beer, which is generally out of reach for contractors. The brewery itself isn't quite there yet, either.
"Having enough volume to justify the MOQ is the only way you can get to that printed level," Parker says. "We even have a design for King State, we're just waiting to pull the trigger on it until it makes sense for us."
The 6-pack multipacks are then manually packed in a 24-ct into high-walled (4 in tall wall) corrugated trays by Romanow Container.
"The taller walls are better for the 16-oz beers, and they're really nice, with handles," Parker adds. "For our 12-cans, we use shorter trays with the WestRock can handles—we can't do the high-walled trays with 12-oz CanCollars."
What's next for the brewery? Parker is eyeing a 19.2-oz can option, among other potential developments. But between King State Beer's twist on time-honored brews, The Brutalist's on-trend creations, and whatever undiscovered beer varietals that smaller local breweries can dream up, this Tampa-area craft beer operation brews and cans the whole beer gamut. The new canning line with ultra-low dissolved oxygen pickup, plus a differentiating paperboard multipack, will serve it well in coming years. PW

Companies in this article