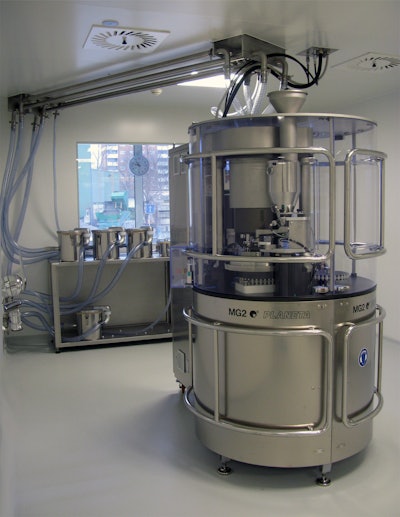 London-based Skyepharma specializes in drug delivery via a range of oral and inhalation products that are marketed worldwide by major pharmaceutical firms and specialty pharmaceutical companies. Skyepharma works in partnership with its licensees and partners to enable the development and commercialization of innovative and challenging pharmaceutical products using advanced technological approaches. Following a successful feasibility study, a typical project begins with pilot-scale production, which is followed by commercial-scale production that may entail additional contract manufacturing and packaging services by Skypepharma.
Recently, for the production of pilot and clinical batches for its inhalation product pipeline, the company sought a partner to provide effective equipment to meet its challenges.
After evaluating multiple options, Skyepharma attended an industry event where its search ended with the addition of a Planeta capsule filling machine from MG2.
Rudi Müller-Walz, Skyepharma's Head of Formulation & Process Development, says since the Planeta machine went into operation it has provided the level of performance and reliability the company needs.
Not only does the filler ensure the required dosage accuracy and uniformity, but the Planeta offers a major "plus" for Skyepharma in terms of scalability. The model chosen by Skyepharma produces 12,000 capsules/hr (200/min), and can be upgraded to more than double that output. Adding a new module could produce up to 100,000 capsules/hr.
According to a press release, "Compaction is a major consideration and potential drawback when powders for pulmonary delivery applications are filled into capsules." For this, MG2 provided Skyepharma a specific micro-dosing unit to enable continuous operation for filling of small masses of powder into capsules—in sizes from 8 mg to 50 mg—without compaction issues.
Other modules to handle different product forms such as pellets, micro tablets, tablets and liquids can also be fitted to Planeta equipment. Skyepharma says it is particularly important in the development of new powder formulations for inhalation applications to have 100% control of the fill weight in order to achieve the degree of precision necessary to produce robust formulation performance data.
To meet those demands, Skyepharma's machine includes a MultiNETT capacitive system that checks in-process the net fill weight of each capsule. The real-time self-adjustment system corrects the dosator volume in order to achieve the best fill performance. It ensures the fill-weight of each capsule is within the required acceptance parameters.
The MultiNett System is controlled by a statistical gravimetric system equipped with two load-cells for measuring the empty and filled capsules individually at high speed and with low fill-weights.
Beyond these automation advances, Skyepharma benefits from the Planeta's human-machine interface, which is easy to handle and generates batch reports of all the relevant information required concerning process conditions and output.
With the Planeta, Skyepharma's capsule-based drug filling process can be meet industrial-scale output needs. It also helps to address development companies required to deal with the disparate physical properties of different drug formulations.
Skyepharma's capsule filler delivers flexibility, good adaptability in the development phase, seamless scale-up for larger batch sizes within a reasonable time and representative of full-scale production, and after-sales support.
Companies in this article