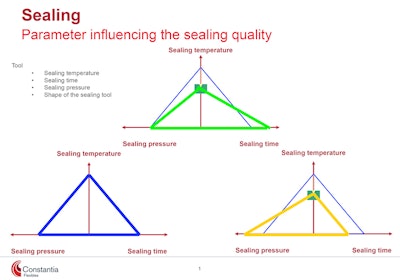 • Roller/platen sealing:
Trend is going to more output by using roller sealing. With this the sealing area is well used and aligned with the cavities.
• Temperature/time/pressure:
This useful triangle must be balanced and evaluated. Knowing the biggest impact is given by temperature.
• Bottom material—right heat-seal coating:
Per each different thermoform material the corresponding sealing layer on blister lidding foil is recommended: Standard materials are fully covered. Even a coating for [Honeywell's] Aclar is available.
• Cross permeation:
An interesting factor for sensitive products is also the impact of cross permeation through the seal when using barrier materials such as cold form materials.
—By Stefan Frischmann, Head of Product Development, Pharma for Constantia Flexibles
Companies in this article