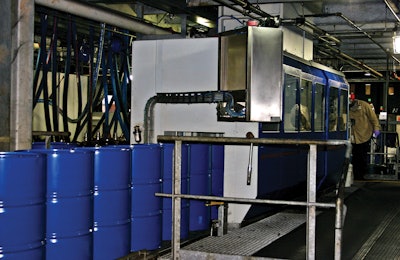 New Orleans-based IMTT (International Matex Tank Terminals) owns and operates 12 bulk liquid storage terminal facilities in North America. The company's terminals primarily store chemicals (both hazardous and nonhazardous), mineral oils, and vegetable oils in tanks with varying volume capacities. Aggregate storage capacity at all 12 plants is approximately 42 million barrels.

Manufacturers who contract with IMTT to store their products ship those products to the storage locations via pipeline, ship, barge, rail, or truck. The delivered products are stored in IMTT's bulk storage tanks until needed by end users.

The Geismar, LA, bulk liquid storage facility is one of the 12 in IMTT's U.S/Canadian network. In 2008, Geismar began storing product for a major manufacturer of industrial chemicals. This proprietary manufacturer of chemicals such as polyols, amines, and isocyanides challenged IMTT not only to manage the bulk storage of their products, but also to handle the drum filling of these products. IMTT had previously incorporated drum filling systems at only one of its other 11 terminal operations. And the drum filling at that facility was on a much smaller scale than would be required for the Geismar project.

To accomplish its new objective, IMTT needed a manufacturing partner capable of providing a complete turnkey system that included everything from empty drum feeding conveyors and liquid fillers to drum labelers and palletizing equipment. Due to the hazardous and sensitive nature of some of these chemicals, the system had to meet strict safety and environmental requirements designated by the IMTT customer. To ensure safety standards, IMTT required a vapor extraction system and thermal oxidizer to eliminate all hazardous vapors. And the entire system needed to be highly automated to handle high production volumes.

IMTT turned to Feige Filling Technology/Haver Filling Systems, Inc. for assistance. Haver specializes in customized filling machine design and plant layout configuration. IMTT's customer already had a relationship with Feige Filling Technology/Haver because Feige provides the majority of container filling equipment for the customer's chemical production facilities in Europe.

Haver marketing manager Gudrun Gibson notes, "This particular customer of IMTT's is one of the biggest chemical producers in Germany. In one facility alone, Haver has supplied more than 100 machines. So we were already very familiar with this company and the types of hazardous and non-hazardous chemicals it manufactures."

With this experience in hand, Haver Filling was in excellent position to supply the complete, fully automated turnkey drum filling system to meet strict safety requirements, as well as to custom-design and custom-configure the equipment for the IMTT Geismar facility's exacting operational objectives.

Creating the Logistics Center

Jos Wolke was IMTT's project manager on what would become the Geismar Logistics Center. Wolke and his team needed to manage construction of an entirely new facility and step outside IMTT's comfort zone into higher-volume container filling technology and systems. Wolke notes, "We're experts in bulk liquid storage. So drum filling wasn't our core business. But we were all confident that, with this new facility, we could deliver on our customer's needs and expectations."

The heart of the system design included four Haver/FeigeType 86 Automatic Drum Fillers and two Type 26 Semi-Automatic Pallet Load Fillers. The Type 26 pallet filling system can fill palletized drums or IBCs (intermediate bulk containers), as well as handle customized applications such as totes.

The drum fillers are capable of filling up to 100 drums per hour and feature six integrated stations inside the machines. Automated functions of the stations include drum positioning, cap removal, nitrogen purging, coarse and fine filling, cap replacement, and cap sealing. The IMTT operator simply selects the product to fill from the control panel on the Type 86 Drum Filler. The filling systems are totally enclosed, so all of the processes are completed without exposing the IMTT operator to any potentially toxic or flammable chemical hazards.

Wolke says, "It's very important that we don't mix incompatible and reactive chemical groups. We keep the most reactive product family separate from all the others and dedicate two drum fill systems to it. Then we have two additional drum fill systems specifically dedicated to our other products."

The Type 26 semi-automatic pallet filling machines have a balanced boom arm that allows the IMTT operator to easily maneuver the filling nozzle to reach any drum on a pallet or the opening of an IBC. The filing system also has a pneumatic base height adjustment to allow for quick height change of the filling lance location when the type of container is changed. The filling lance features user-friendly design, enabling quick and simple changeovers. Precise lance changeovers increase productivity and prevent cross product contamination.

One of the major logistical challenges, as Wolke had predicted early on, was the considerable distance from the storage tanks to the drum filling systems. Wolke reports, "After experimenting with a few settings for the pumps, pressure, and flow rates, we found that our optimized production point was approximately 80 drums per hour per filling system. We're very pleased with that output and the filling accuracy."

The Geismar Logistics Center went into full operation mode in 2008 with 30 storage tanks and six Haver liquid filling systems. Wolke says, "Overall, the Haver group spent several years working with us to be sure all the filling systems met our needs and customer expectations. Haver Filling Systems has been great to work with throughout the entire process. The win for our customer is that they do not have to transport their products to other storage facilities. We can store, drum-fill, and ship from one facility. The transportation cost savings for our customer are significant."
Companies in this article