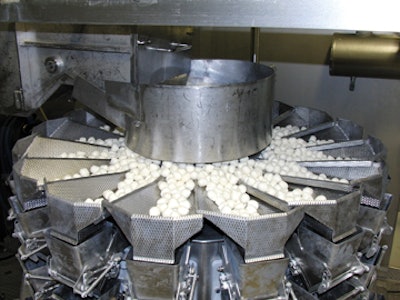 Approximately two million liters of raw milk are processed in the cheese maker's three Bavarian factories daily. Goldsteig works manager Uwe Grunemeyer relies on multi-head weighing systems from Multipond to ensure efficient weighing operations. Grunemeyer says, "When it is a matter of purchasing new weighing systems, we contact Multipond. All projects to date have been implemented with complete satisfaction."
Recently, Goldsteig installed a Multipond weigher at its Cham plant to handle mozzarella ball packaging. Prior to installation of the new weigher, the small (7.5g to 8.5g) cheese balls were filled into trays using a counting system. Accurate tray packing by weight was not being accomplished.
To rectify the weighing accuracy problem, Golsteig decided to install a Multipond Model MP 1601-FFC-S5 combination weigher with twin-memory hopper. Due to the company's high hygiene and efficiency requirements, the weigher had to be designed and built in accordance with Goldsteig's precise specifications, including close attention to the design of the vibrators, prefeeders, weigh hoppers, chutes, and funnels.
An elevating conveyor feeds the small mozzarella balls to the distribution cone of the weigher. After the weighing process, partial portions are deposited into the memory hoppers. Use of the twin-memory hoppers dramatically increases the number of possible combinations to achieve maximum weight accuracy. A microprocessor determines the combinations that correspond or come closest to the optimum tray target weight (125g). The weigher is controlled and operated via a user-friendly color touch screen monitor.
Grunemeyer reports, "The weighing equipment is running without problems. Not a single service call or spare parts call has been necessary. We simply consider ourselves in good hands with Multipond."
Companies in this article