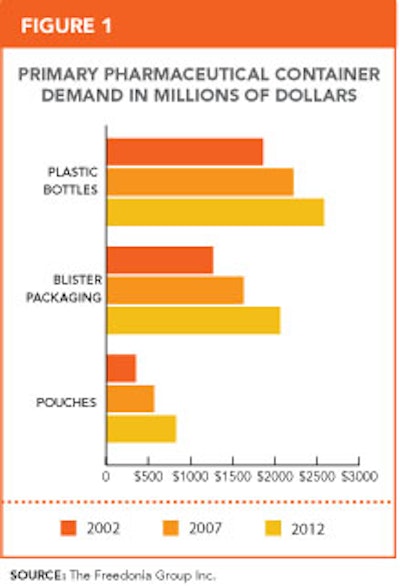 So says a new report available from Freedonia Market Research (www.freedoniagroup.com). Regulations and standards that address issues such as barrier protection, infection control, patient drug compliance, drug-dispensing errors, and drug counterfeiting will drive the gains, the report finds. An increased focus on these issues will result in strong growth for high, value-added container accessories, especially parenteral vials and flip-top closures, plastic dispensing bottles and closures, prefillable inhalers, prefillable syringes, and related closures, rubber, and elastomeric parenteral stoppers, track-and-trace and authentication labels, and unit-dose pouches.
Other findings presented in the report include the following:
• Demand for primary pharmaceutical containers will increase 5.2% annually to $9.6 billion in 2012, especially for syringes and vials.
• Plastic bottles will remain the most widely used package for oral drugs distributed in bulk and prescription- dose volumes to retail and mail-order pharmacies.
• The market for pharmaceutical pouches will expand rapidly, spurred by increasing applications in the unit-dose packaging of transdermal patches, powders for reconstitution, and topical creams and ointments.
Companies in this article