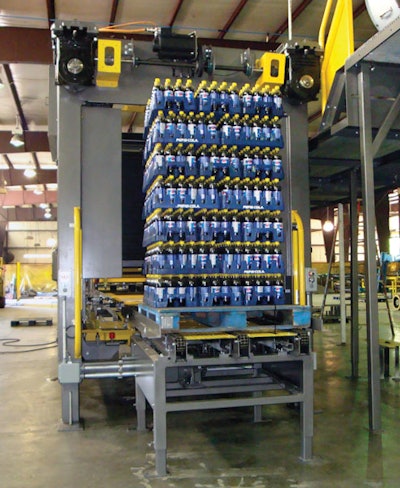 Blow molding equipment that requires less air. Servo technology that brings the benefits of regenerative energy. And palletizing robots featuring "positive turning" designed specifically for today's increasingly light-weighted plastic bottles.
These are just some of the ways in which the packaging machinery landscape is changing as participants in the packaging arena come to grips with the sustainable packaging trend.
We begin with a look at blow molding equipment that conserves electricity and cuts power usage through the recovery and reuse of compressed air. The concept is known as ARS, or Air Recovery System.
In PET blow-molding applications, air compressors produce excess air, which is usually exhausted into the atmosphere. Even though it is at a lower pressure than primary compressed air, if that excess air can be recovered and recycled to the plant's low-pressure system, it can be used anywhere needed within a facility. This allows some compressors to rest, resulting in significantly lower energy useage.
Connell Industries (www.connellindustries.com) is among the suppliers of ARS technology. Its Technoplan Engineering System is suitable for retrofit onto most blow-molding machines currently on the market. At one PET bottle manufacturing plant, it's been installed on four blow molders of PET bottles. "
We use 565 psi air to blow the injection-molded performs into finished bottles," says the plant engineer at the plant. "After we blow the bottles, the excess air that is not needed is normally exhausted out into the atmosphere. Now, for those lines with ARS units, the excess air is reclaimed and put into the low-pressure side of our air system. We have that air pressure set up at 115 psi. And by taking the reclaimed air from the high pressure side and putting it back into the low-pressure side, we can save up to 50-100 HP of energy, depending on the blow motors."
The horsepower savings not only translates directly into cost savings. In the process it reduces greenhouse gas emissions. So the plant receives incentives from the local electric power utility, Southern California Edison. "
Including the incentives from Edison, we estimate that we can save between $60,000 and $100,000 per year," says the plant engineer. "Of course, that figure is dependent on capacity and speed."
"We've installed the Connell Technoplan system on six lines so far," says Doug Wehrkamp, director of engineering at Southeastern Container, which produces PET bottles for its parent, Coca-Cola, at 10 U.S. plants. "But we still have a lot of potential to retrofit older blow-molding systems. Right now we're concentrating on the plants that are subject to higher energy rates and where utilities are offering substantial incentives."
With the help of electric power utility Public Service Co. of New Hampshire, SEC set a multi-year goal of conserving energy while at the same time improving the output of its blowmolders at its Hudson, NH, plant, so that more bottles could be produced using less energy. The Hudson facility produces 1.5 million PET bottles per shift.
"We've had savings of somewhere between $90,000 and $140,000, depending on the utility rate at various locations," says Wehrkamp. "We've also got some rebates and incentives on top of that. This was particularly the case with Public Service of New Hampshire. Because of them, at our New Hampshire plant the rebates have equaled about half the capital investment we made in installing the ARS technology."
Regenerative energy
Shifting now from container making to machine building, consider how T-Tek Material Handling (www.t-tek.com) has found a way to build a beverage palletizer that saves energy thanks to help from a servo system supplied by Bosch Rexroth (www.boschrexroth-us.com).
In designing their new TS Series palletizer, T-Tek worked with Rexroth's Electric Drives and Controls technology group and their distributor Womack Machine Supply (www.womack-machine.com) to develop a servo system that would use less energy in addition to increasing speed and providing better material handling capabilities. The key components: Rexroth's IndraDrive M drives, HVR power supply, and MSK servo motors.
T-Tek's three-axis palletizer handles a variety of packaging configurations of cans or bottles in layers containing as many as 32 packages each. During beverage production, the filled packages move down the line to the palletizer, which handles them at a rate of up to 180 containers/min.
When containers enter the palletizer, they're oriented into a specific pattern. Each layer is offset from the previous one, and the entire accumulation is placed on a pallet, layer by layer. Once the pallet is fully loaded, the pallet is lowered, ejected, and sent down a conveyor so that an empty pallet can be lifted up into position for the process to begin again.
T-Tek identified three primary components in their palletizer where speed and energy usage could be improved: the apron, the compression mechanism, and the hoist. As a layer of beverage cases moves through the palletizer, the apron allows each layer to drop cleanly on the hoist. The compression mechanism applies pressure and squeezes that portion of the layer and holds it in place so the apron can move out from under it before the layer goes onto the pallet. The hoist is responsible for raising and lowering the beverage pallets, which often weigh in excess of 2,000 lb fully loaded. The hoist positions itself within 1⁄10" regardless of how full the pallet is. Essentially, more than ten times every minute the machine will extend a layer onto the apron, clamp a layer, pull back the apron, and lower the hoist. As often as every 40 seconds it must eject the fully loaded pallet and put an empty pallet into place without slowing the incoming product. And it has to be able to do all this 20 hours a day, 360 days per year.
During the apron and compression cycles, T-Tek's machine previously averaged around 6 sec/cycle. Using the IndraDrive M series drive system, the process now cycles at under 5 sec. The IndraDrive M drives and MSK servo motors meet the demands of high-positioning accuracy, power density, speed, and efficiency that are the very reasons automation motion control has become so desirable in today's manufacturing environment.
Due to the increase in control, the components in T-Tek's TS Series palletizer are moving faster but decelerating more smoothly with less jarring. This is crucial not only because of the benefits like extended component life and lower maintenance costs. But also because the demand for sustainable packaging has led to the use of lighter and thinner material for package composition. Rough handling of packages can lead to product damage and waste. The TS Series palletizer uses the Rexroth servo to maintain a very high level of control for even the most delicate PET bottle sidewall.
Another immediate benefit from using Rexroth drives with the HVR power supply involves the concept of "regenerative energy." Regenerative energy is created during an application where the load possesses more energy than the motor, as is often the case when lowering heavy pallets. Motors convert electrical power into mechanical power for the machine. However, servo motors have the potential to generate electricity, too. Simply put, as that heavy pallet decelerates, the braking motor turns into a generator converting mechanical power back into electrical power, which needs to be removed. Traditionally, most systems would take this excess energy and burn it off using a brake resistor which generates heat and may actually use even more energy for cooling off the control cabinet.
The palletizer hoist, which raises and lowers heavy loads, produces a large amount of regnerative energy. Instead of brake resistors, the palletizer uses Bosch Rexroth's MSK motors, IndraDrive M servo drives, and HVR power supply to take the extra energy and regenerate it back to the main 3-phase power by the HVR power supply, thus giving energy back to the power company. In addition, the excess energy can be used to maintain the DC Bus voltage for running the other servo drives on the DC Bus, rather than using power from the incoming main 3-phase power. The advantage is converting usable energy for the machine by powering the other servo motors on the DC voltage bus that may be in acceleration mode, instead of burning off the energy to a resistor.
"With Rexroth's servo technology, we've significantly reduced the machine's energy consumption," says Brian Traff, vice president of T-Tek. "Although our goal throughout was to improve the performance of our packaging capabilities, the energy savings that accompany this solution is a welcome bonus for our customers."
Prior to using Rexroth servo components, T-Tek used a 20-HP motor to power their hoist. Now, with highly efficient Rexroth MSK servo motors, they can produce faster results with only a 10-HP motor. That results in better case handling and greater load deceleration control, saving even more energy. The MSK motors feature intelligent feedback, meaning the drive can read each motor for its current, torque, and speed capacities, thereby allowing for greater motor control and faster startup. With the smaller motors and regenerative drive capabilities, Traff said he estimates the overall energy savings to be in excess of 20% compared to the machine T-Tek built about six months prior.
Companies in this article