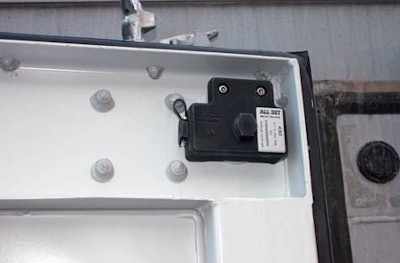 Starbucks Coffee has awoken to the potential threat to its cargo containers. In March, it became the first U.S. company to purchase CommerceGuard, General Electric's advanced-technology system for container security and tracking. Starbucks is immediately installing CommerceGuard, which is a quasi-RFID system, on containers carrying packages of green coffee beans from Guatemala bound for its four roasting plants in the United States and Europe.
Now Congress is about to give the rest of the U.S. retailing and packaged goods industries a caffeinated wake-up call. Both the House and a Senate committee have passed separate bills that would force the Department of Homeland Security to shake off its lethargy vis a vis container security. The bills have parallel though not identical provisions that would require some degree of container tracking by importers, plus adoption of advanced tracking for those importers who want their cargo containers to move through ultra-fast GreenLanes in U.S. ports.
"The final bill will certainly start the clock for the DHS to specify container security device standards," explains Lani Fritts, chief operating officer of Savi Networks, a division of Savi Technology (www.savi.com), the leading rival to GE Security in terms of marketing container security RFID and global positioning system (GPS) services. Savi recently notched its first major U.S. customer, Dow Chemical, which is using Savi Sentinel ST-646 active 433 MHz RFID tags on its intermodal containers shipping out of one plant in Pittsburg, CA.
"There are a couple of other customers who are using our container tracking technology, too, but they have asked to remain anonymous," adds Fritts.
Once Congress passes a compromise version of the Senate-House port security bills, companies using RFID security solutions will have to start identifying themselves, at least at the point when new DHS container-tracking programs begin, which could be within 18 months.
And while the cargo security bill will not specify security standards for the cartons and pallets stacked inside the giant cargo containers, it will undoubtedly hasten the adoption, in the name of convergence and integration, of item-, carton- and pallet-level tagging.
Dow, for example, has been testing RFID tags on the chemical cylinders that are loaded into the shipping container armed with the Savi tags. So far, cylinder-level tagging has proven too expensive, though the testing has been positive, according to Dow officials. Dow intends to start tagging cylinders as soon as the cost of item-level tags decreases a bit.
"I think item-level and container-level RFID tagging go hand-in-glove," says Savi's Fritts.
The different bills
As both congressional bills—HR 4954-Security and Accountability For Every Port Act (sometimes called the SAFEPort Act) and S 2459-GreenLane Maritime Cargo Security Act—traveled through the House and Senate, the key issue motivating legislators was the fact that currently only six percent of the 27ꯠ containers reaching U.S. ports every day are inspected.
That's how they determine whether those containers conceal weapons of mass destruction or other deadly cargo, including terrorists themselves. In the recent past, officials of the DHS have argued that the Customs and Border Protection's (CBP) Automated Targeting System (ATS) is so precise that the U.S. knows which containers arriving on foreign docks are "high risk." So the potentially most dangerous containers are theoretically inspected there.
ATS profiling is based on paper filings of cargo waybills and an extensive historical risk scoring algorithm derived from years of data about containers and inspections.
Foreign inspections?
But Clark Kent Ervin, former inspector general of the DHS, told the House Homeland Security Committee in April that foreign inspectors often refuse to inspect containers that the CPB deems to be high-risk. "Less than a fifth of the containers that we believe should be inspected abroad—17.5-percent to be precise—are in fact inspected by foreign ports," Ervin said.
That is why members of Congress believe that it is important to know whether container seals, and eventually all six sides of a container, have been breeched in transit.
The House and Senate bills at this point have some important differences. The House bill (HR 4954), which passed by a vote of 421-2 on May 4, seems to be the tougher one, and unequivocal at that. It would force the secretary of DHS to set standards for container seals within 180 days of enactment.
Two years from enactment, the DHS secretary must require the enforcement of those standards on all containers entering the United States. In the report accompanying passage of the bill, the House committee voiced its concern "that the state of current technology in this realm is currently insufficient." The bill sets a de facto standard that states: "It is critical that new technologies for securing containers minimize false positive readings, and ideally incorporate a false-positive of less than one percent."
Less limiting
The Senate bill (S 2459) seems more limited, requiring container security devices only for importers participating in a pilot program involving three foreign ports, to be named later. Importers' containers, loaded on ships in those foreign ports, would be subject to "integrated" scanning, including the use of container "security or sealing devices."
That CSI pilot would presumably be eventually rolled out to other foreign ports.
The Senate bill (S 2459) also has a provision setting up GreenLanes at U.S. ports, the use of which would be contingent on an importer using a more advanced container security device specified by the DHS.
The House bill also has a GreenLanes (called Tier Three) program whose cost of entry is the use of "container security devices, policies, or practices that exceed the standards and procedures established by the Secretary..." That reference to higher standards presumably means a six-sided intrusion-warning device, not the typical front-lock intrusion device that is offered by CommerceGuard and the Savi product line.
The thought of Congress delivering a kick in the pants to the DHS on container security devices has made retail and consumer product associations nervous. Both the Chamber of Commerce and the Retail Industry Leaders Assn. (RILA) pleaded with both House and Senate committees this spring to go slow.
The response
Jonathan Gold, vice president global supply chain policy for the RILA, says rushing unproven and/or faulty technology into supply chain security solely for the sake of doing something about security will undermine progress made to date, contribute to a false sense of security, and, in the end, prove both costly and ineffective.
The fact that a certain physical device or screening process may work well in a lab or at a particular port does not mean that it can or should be expanded to other real-world applications. "Congress should outline policies and goals and let DHS find the smartest and most effective way to meet those goals rather than being forced into deploying unproven gadgets," he states.
But there is near unanimity in Congress that DHS's marathon foot-dragging must come to an end.
Companies in this article