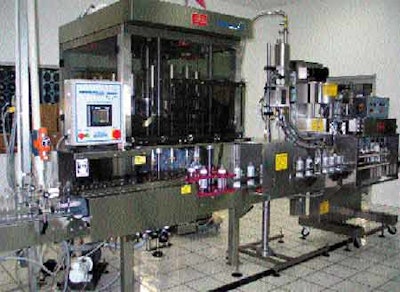 Indian Hills Spring Water LLC, Murphy, NC, bottles its own brand of spring water as well as private label brands for regional marketing to retail and foodservice outlets, including some area school systems.
Sourced from a fissure spring, the water is exceptionally pure with only 5 parts-per-million total dissolved solids (TDS). It is gravity-fed into a stainless steel tank and is ozone-treated and micro-filtered before bottling in a clean-room environment. The bottling room is equipped with an ultraviolet air purifier and HEPA air filter.
General manager David Lawrence explains that, in addition to adding another layer of purity security to the water, the ozone water treatment also serves to sanitize the interiors of the polyethylene terephthalate bottles and caps when contacted by the water.
Atmospheric pressure problem
The bottling facility is located at high altitude, and some of the bottled waters are shipped to sea-level cities in the region. As the filled 16.9-oz and 20-oz bottles are transported, the altitude change and accompanying atmospheric pressure change can cause paneling and collapsing of the bottles.
In order to avert this problem, the company decided to install a liquid nitrogen injection system on the bottling line. The LN2 converts to a gaseous state within the filled water bottles, purging the headspace air and providing internal pressure to prevent paneling and collapsing problems, much as it does in cans of non-carbonated drinks.
Indian Hills Spring Water
"In addition to adding another layer of purity security to the water, the ozone water treatment also serves to sanitize the interiors of the PET bottles and caps when contacted by the water."
Lawrence had met some representatives from Cryotech International–formerly VBS Industries–(cryotechinternational.com) at a trade show and was impressed by their expertise. After reviewing the various systems, the bottler selected a Cryotech/VBS Model LCI-400 LN2 dosing unit for installation on-line.
After consulting with Cryotech engineers about proper line positioning, Lawrence, in December 2004, proceeded to assemble and install the LN2 dosing unit. He says, "It was really an 'out-of-the box, onto-the-line' job. It took less than an hour to assemble the mobile stand and install and adjust the unit."
Lawrence adds, "That's why we chose the LCI-400. We could have opted for a newer, maybe more sophisticated Cryotech model. But for our modest operation, we like the simple instrumentation, easy maintenance, and overall dependability of the one we chose. It was easy to install, and it's very easy to operate and control. And Cryotech even supplied common replacement parts so that we can quickly deal with any repair or maintenance situation that might arise without having to be down while we place a parts order."
Less weight, less cost
Indian Hills Spring Water now is using flat-bottomed 21-g PET bottles manufactured by Triumbari (www.triumbari.com) and distributed to the bottler by American AquaSource (www.bottlingsystems.com).
Indian Hills Spring Water
The bottles have a PCO (plastic closure only) neck finish for enhanced sealing integrity. Prior to installing the LN2 injection unit, the bottler had been using 24-g bottles, hoping the extra weight could help avert some of the paneling and collapse issues. The LN2 system has permitted down-gauging of the bottles and, consequently, saved the company a significant amount of money on packaging costs.Lawrence estimates, "We are saving approximately 13.5 cents pe 24-count case of bottles. That might not sound like much. But we use about 1.5 million bottles per year or about 58ꯠ cases. That works out to about $8000 per year savings on bottle costs. And that savings contributes to a fast payback on the cost of the liquid nitrogen injection unit."
Line performance
The bottles are cold-filled by a rotary filler from Kaps-All (www.kapsall.com) at 54°F, the temperature at which the water comes from the spring. The filled bottles are immediately dosed with liquid nitrogen and capped using a Kaps-All capper. The tamper-evident-banded, 28-mm, lined Wing-Lok caps are from Alcoa(www.alcoacsi.com). Filling, dosing, and capping speeds are approximately 120 bpm. Lawrence notes that this speed meets their current operating needs, but the line could run faster if necessary.
"We are saving approximately 13.5 cents per 24-count case of bottles. That might not sound like much. But we use about 1.5 million bottles per year."
After filling and capping, the bottles are routed to a labeling station where Richmark (www.richmarklabel.com) pressure-sensitive laminated paper or laminated film labels (depending on water brand) are applied by a Model 350 VF labeler from Accraply (www.barry-wehmillerco.com). Date codes are applied to the lower side of the bottles by an ink jet coder from Domino Amjet(www.domino-printing.com). Lawrence says, "The Accraply labeler holds the bottles in an absolutely vertical position and applies the labels with awesome accuracy."
Indian Hills Spring Water LLC is very pleased with the addition of the liquid nitrogen injection system to its bottling line. Lawrence concludes, "It was a simple, cost-saving solution to our high-altitude problem."
Companies in this article