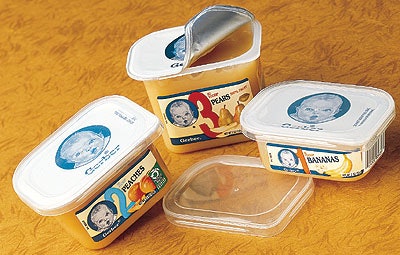 Following are DuPont award winners previously covered in Packaging World articles. To read the complete stories, go to www.packworld.com/ go/w031.
Gerber Products,
Gold Award Food Category
New in 2-oz, 3-oz, and 5-oz sizes, the containers for Gerber baby food are formed, filled, and sealed aseptically on equipment supplied by Hassia (Morganville, NJ). The forming web, from Printpack (Atlanta, GA), is a PS/EVOH/LDPE structure. Lidding material, from Pechiney Plastic Packaging (Chicago, IL) is a foil-based structure that's heat-sealed to the cup. The containers are topped with a clear, snap-fit PP overcap from Magenta (Chicago, IL). Cost of the plastic containers, says Gerber's Nick Catorre, is comparable to glass.
Procter & Gamble,
Gold Award Food Category
The container for Torengos Tortilla Chips is extrusion blow-molded of HDPE by Consolidated Container (Atlanta, GA). Graphics are reverse-printed on a stretch-sleeve film label from MRI (Newtown, PA). The container is topped with a thermoformed overcap from Ivex (Wheaton, IL) and
lidstock from Spiralkote, a div. of Fleming Packaging (Orlando, FL).
Kraft,
Gold Award Food Category
The new reclosable pouch for Kraft cheese is made by Pechiney Plastic Packaging (Chicago, IL) with a slider zipper from Minigrip/Zip-Pack. A f/f/s machine from Pacmac (Fayetteville, AR) applies the slider to the pouch during pouch making. The pouch is constructed of PE/LDPE/EVOH.
Sargento,
Gold Award Food Category
Sargento Cheese packs its shredded cheese in a gas-flushed pouch using a Curwood (Oshkosh, WI) Integra Score® opening feature equipped with a sliding zipper. The film structure is multilayer using EVOH and LLDPE along with other proprietary technology and processes.
Eldorado Farms,
Gold Award Food Category
Packed in a 2-mil LDPE bag from Pliant (Schaumburg, IL), Eldorado Farms' Market Prize Peeled Carrots enjoy a three- to four-week refrigerated shelf life. Packs utilize Pliant's Relliant Series 200 slider zipper for reclosability.
Biodegradable Packaging,
Silver Award Food Category
From EarthShell (Santa Barbara, CA) comes biodegradable packaging for clamshells and sandwich wraps for foodservice institutions. The patented technology allows the combination of ingredients such as limestone starch, and other biodegradable materials for packaging that will biodegrade when exposed to moisture in nature and can be composted in a commercial facility or the backyard.
See the story that goes with this sidebar: Flexible packaging reigns
Companies in this article