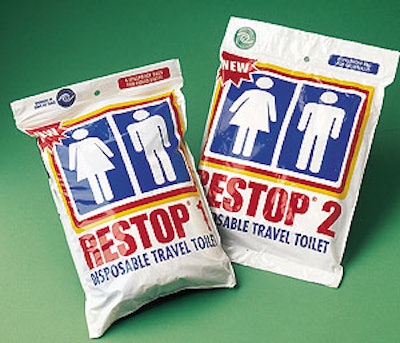 American Innotek of Escondido, CA, manufactures disposable and portable toilet bags that include a proprietary blend of superabsorbent polymers, enzymes, and deodorizers designed to gel liquid on contact. Each Restop™ bag has a zipper-like reclosure feature. So, after a bag is used and zipped closed, it's a no-spill/no-leak vessel that can be discarded in any trash receptacle.
For some time now, American Innotek has used an Autobag® HS-100 Dual Excel machine from Automated Packaging Systems (Streetsboro, OH) to package its portable toilet bags. From a conveyor belt running past the Excel machine, the operator picks one toilet bag and one foil-wrapped antiseptic wipe and places both items in a premade, roll-fed, low-density polyethylene bag. The operator then hits a foot pedal to heat-seal the bag closed.
As long as American Innotek targeted only the "industrial" market—utility, telecom, and municipal workers who operate all day out of a vehicle—packaging didn't need to evolve beyond this one-up format. But recently, American Innotek established a consumer division to bring its products to the general public, particularly campers, hikers, hunters, fishermen, and the like. Rather than use the one-up format long established for the industrial market, the consumer division elected to package multicomponent kits. These include not only more than one toilet bag and antiseptic wipes, but also packs of toilet paper. This multi-component format required a package that could be reclosed with a zipper feature, which meant the tried-and-true Excel bagger couldn't be used because it isn't designed for zippered bags.
Enter the SPrint system
Once again, American Innotek turned to Automated Packaging for its equipment needs. The machinery builder responded with its SPrint bagging system. Installed in July, the new equipment lets American Innotek package multiple items into reclosable bags.
The SPrint bagging system is fed pre-made bags that are supplied fan-folded in a box. The bags are attached to each other at the side seam by a perforated weld. They are drawn over a turning bar that takes them from horizontal to vertical, and then a small tunnel-like portion attached to the bottom of the bags is fed over a metal rod that extends down the length of the SPrint machine. From this rod the bags are suspended zipper-side down, so operators manually load the bags through the open bottom as the SPrint system indexes and opens the bags. Indexing is accomplished by side belts that propel the bags continuously forward at about 40 bags/min.
Once the proper number of components is placed into a bag, the SPrint system heat seals and trims the bag bottom. Supplied by Automated Packaging, the low-density polyethylene SidePouch™ bags are either two or four mils thick, depending on the number of components they must hold. The bags range in size from 4.5"x8" to 8"x10.5".
Flexibility
For maximum flexibility, American Innotek placed its SPrint system alongside the same conveyor belt that feeds the Excel bagger. The Excel sits upstream of the SPrint. As products move along the conveyor belt and past the baggers, operators take whatever items they need off the conveyor and place them in the bags at either the Excel or SPrint machines.
"We require versatility in our product lines since we operate on a just-in-time basis," says Niki Kopenhaver, vice president of operations at American Innotek. "Working from one conveyor belt gives us the ability to process multiple products at the same time."
Measuring 56" in length, the SPrint system presents multiple open bags in front of one or multiple operators, depending on the complexity of the kit being packaged.
Kopenhaver says she was pleased at how little time it took to set up the SPrint bagger. Operator training was a breeze, too. And on the rare occasions when a visit by an Automated Packaging rep is required, the response has been prompt.
"All it takes is a quick phone call," says Kopenhaver.
Companies in this article