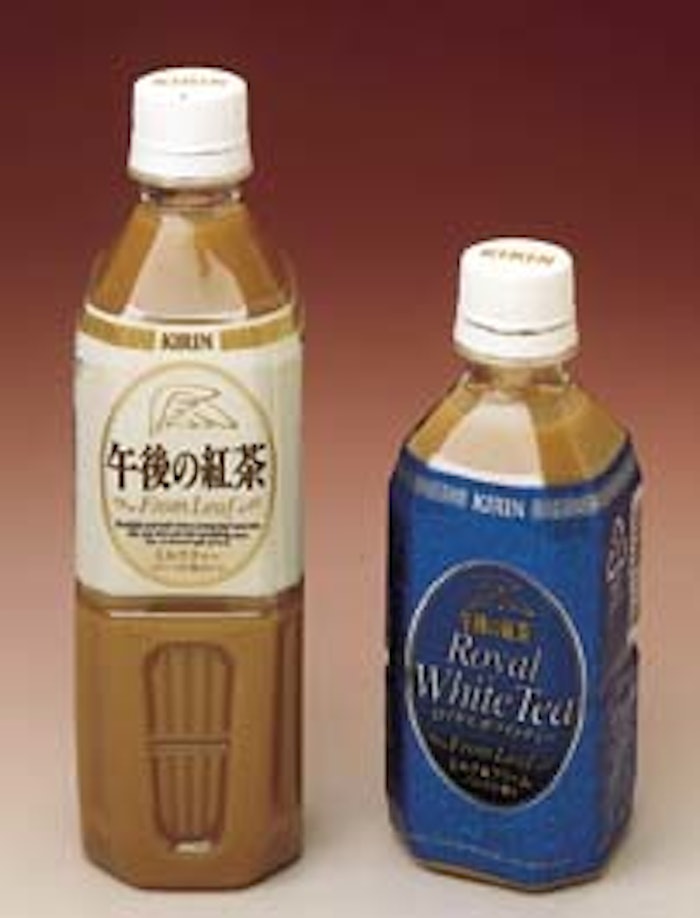 As machinery builders specializing in aseptic packaging aseptic packaging systems for plastic bottles continue to improve their equipment's capabilities, one beverage in Asia seems to be finding its way into polyethylene terephthalate bottles with greater and greater frequency: tea. Making this development all the more dynamic is that no one equipment manufacturer is behind it.
For Daiwa Can of Japan (see story p. 52), aseptic packaging equipment comes from Italian manufacturers. But at Kirin in Taiwan, the key machinery suppliers were a fellow Japanese manufacturer and a German blow-molding equipment expert. Meanwhile, also in Taiwan, beverage giant Uni-President chose an equipment supplier out of Geneva, Switzerland, for its aseptic packaging equipment. Talk about a global supply chain.
While an in-plant visit and interview opportunities were available at Daiwa Can's Ooigawa plant, Kirin and Uni-President, for now at least, are less receptive. Still, both companies have recently installed major aseptic lines that are worth reporting on, even though details are scarce. Both lines differ from Daiwa Can's in the way they seek to minimize the amount of square footage required for clean-room conditions.
The line at Kirin Beverage's plant in Shonan, Taiwan, is said to be the world's fastest for single-serve PET bottles. It was developed by Kirin and Shibuya, represented in the U.S. by Shibuya Intl. (Modesto, CA). Help on microbiological sterilizing technology was provided by Shibuya partner Dai Nippon Printing Co. The line fills 350- or 500-mL (11.83- or 16.9-oz) bottles of tea at 900/min. The cost of the project was 4 billion yen (U.S.$37 million), including the facility and the equipment.
Blow molding is done at Kirin on equipment supplied by Krupp, represented in the U.S. by Krupp Plastics (Branchburg, NJ). Labeling machines are from Nippon Automatic Fine Machinery (Yokohama, Japan). The footprint of the aseptic system is 120 sq m (1괌 sq'). Products filled on the line are a variety of low-acid teas and coffees. Historically, Kirin hot-filled these products in heat-set PET bottles. Kirin is said to value the new aseptic technology because bottles can be much lighter and more economical if they don't have to be hot-filled.
The Kirin line does not require a clean room. All the sterilizing required is done inside a modest chamber, where filling and capping take place, as well.
Another 'chamber' approach
A similar no-clean-room approach was taken at Uni-President's new aseptic PET line in Yang Mai, near Taipai, Taiwan. The Tetra Plast™ RFA-40 "small-chamber" aseptic line from Tetra Pak (Geneva, Switzerland) began filling high-acid beverages into PET bottles in July 1999. It was then modified to permit low-acid packaging, though little is known about what kinds of modifications had to be made. "We are in a leadership position in packaging low-acid products that require no clean room," says Tetra Pak spokesperson Caroline Flechet. "It's not in our interest to disclose those details." Uni-President is the first to use the RFA-40 for low-acid products.
"We looked at a lot of equipment around the world, all of which required a clean room," says Tsai Kuei-Jung, assistant president of low-acid product strategy at Uni-President. "Tetra Pak was the only supplier that didn't require one. Without a clean room, it's easier to manage. Also, it comes with lower running costs."
Dedicated to 600-mL (20.28-oz) PET bottles, the line runs at a speed of 200 bottles/min. The system consists of four enclosed chambers in which sterile air flows constantly from top to bottom to keep contamination out. In each of the first three chambers, a rotary carousel holds bottles by the neck rings. The bottles move through sterilization (in the first chamber), sterile rinse (in the second chamber) and filling (in the third chamber). A 12-head rotary capper in the fourth and final chamber completes primary packaging.
According to Tetra Pak, a "sterilising fog" of something called Divosan Active is used for bottle and closure sterilization. The same agent, in a liquid form, is used for machine sterilization.
Bacteria kill rate on the new line is "greater than log five reduction," claims Tetra Pak. In other words, the sterilization procedure reduces the contamination level by 1ꯠꯠ times, or 105.
Some of the teas and tea/milk blends now aseptically packaged in PET are also available from Uni-President in the conventional aseptic brick-pack format. But completely new and only in PET is Liu Cha, a blend of oolong, green and black teas. Launched in Taiwan in May, the 600-mL beverage is promoted as an on-the-go refreshment for the 15- to 25-year-old crowd.
Companies in this article