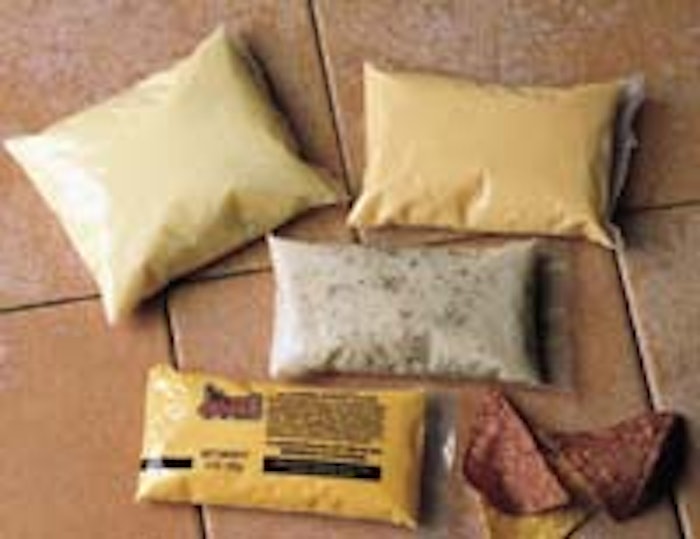 Late last summer, a mild earthquake shook up the rural terrain of northwestern Illinois around the town of Dixon. Around this same time, Amboy Specialty Foods, Dixon, did a little shaking up of its own when it began packaging cheese sauce and other low-acid products on a twin-tube form/fill/seal pouching system from Enhance™ Packaging Technologies Inc., (Whitby, Ontario, Canada), a subsidiary of DuPont Canada. Although twenty-some Enhance systems are in production around the world, this is the first to handle such viscous products.
Amboy's new pouches hold 16 oz or less, with an emphasis on 3- and 4-oz sizes. "We've received inquiries from customers the last several years about small sizes of cheese pouches," says Amboy's Jennifer Gusse, director of marketing. The equipment lets Amboy, a subsidiary of Franklin Park, IL-based Dean Foods, address these customer inquiries head-on and expand its already considerable capability in low-acid aseptics (see sidebar).
As Amboy evaluated the various machines that would meet its needs, the following considerations were all-important:
• Pouch sizes had to range from 3 to 73 oz.
• Speeds had to be adequate. While Amboy declines to disclose specific rates, Enhance says the maximum rated speed of its equipment is 60 pouches/min/tube, or 120 pouches/min. Naturally, larger pouches mean less throughput. Amboy says it can pack 14- and 16-oz pouches at about 96/min. total.
• The machine had to be able to notch the film so that it would tear across a corner for easy dispensing. "It is important that consumers not have a mess on their hands," emphasizes Gusse.
• Shelf-life requirements had to be sufficient, with 12-months as the target.
Gusse says film selection was every bit as crucial as picking the right machine. Relying on film supplier Enhance's expertise, Amboy finalized on a 3-mil structure that includes a barrier layer of ethylene vinyl alcohol. A proprietary formulation, the film's orientation allows the pouch to tear along the corner rather than down along the seal or some other inconvenient location.
For its José-brand products, the outer film layer is reverse-printed flexographically in four colors. Interestingly, an Enhance branding identification is printed on the pouch back, akin to a molding mark on a container. It's about the same size as the Dean Foods logo next to it.
Packaging World has learned that Amboy is changing José pouch graphics, moving the ingredient information to the pouch back and enlarging the brand name. It is to be readied for the next film production and was expected to be run on the machine last month. "This makes the look more consumer-friendly," says Gusse.
The system is not yet operating at full capacity, but Amboy anticipates rapid growth from new customer commitments.
Pumped up
From the balance tank atop the filler, sterile product is pumped down the filling tube by positive-displacement pumps, one per filler tube. A servo motor on the fill valve maximizes fill accuracy, which plant superintendent Mick Homb says is consistently within 1 to 2 g for a 3-oz pouch.
The combination of pumps and servo fill valves was a custom feature designed to meet Amboy's needs for higher-than-usual viscosity products, explains plant engineer Craig Hurley. It bolstered the filler's capability to handle products from 9ꯠ to 25ꯠ Centipoise, which is still midway of the Enhance machine's capability, PW is told.
The 10 ?''-wide (for 3-oz pouch size) film roll is mounted on an unwind stand at the back of the machine. An in-line splicing station is next. Each roll, which weighs about 30 lb, lasts three to four hours in production, depending on the pouch size. Wider webs can be easily changed over to form pouches as large as 72 oz. Hurley notes that each filler tube is equipped with its own unwind stand, so one side can continue operating if there's a problem on the other.
Film tracking, done via the black registration mark that's camouflaged into the graphics, is "good and worked right away when the machine was first turned on," says Homb.
Film travels to the top of the machine and through a sterilizing hydrogen-peroxide bath before passing over a scraper blade to remove excess sterilant. It then comes down the top front of the machine where it is folded into a tube over the forming collar and down over the fill tube.
Although the fill is continuous, the film is indexed intermittently by opposing pairs of rubber rollers. The film advances to where the edges are impulse-sealed by an 18''-long vertical seal bar on the side opposite the fold. The same pneumatic assembly that makes the seal also embosses the film edge with product coding and notches the film for tear opening.
An optional system for nitrogengas overpressure introduces the inert gas inside the film tube through a narrow vertical tube adjacent to the fill tube inside the film tube. It purges ambient air in the little headspace there is to prolong product quality.
Cross-sealing of the filled pouch is by electrical impulse heating, which seals the top of one pouch and the bottom of the next. This seal bar is a metal element with rubber backing that pushes the product out of the way as it closes in to seal the film. Enhance changed the geometry of the seal bar to improve this part of the operation. In this same action, the pouch is cut from the one above so that it is released. Pouches slide to a short curved conveyor that transports them from each filling head to a common takeaway conveyor. Amboy is preparing to upgrade this part of the operation with an Enhance-developed prototype indexer set for late spring installation. The pouches will be oriented with the backside up to accept product-identifying coding when unprinted film is run.
The machine is run by an Allen-Bradley SLC 5/30 programmable logic controller from Rockwell Automation (Milwaukee, WI) with PanelView 1400 touchscreen.
At the discharge of an inclined conveyor section, the pouches are packed manually into a corrugated case. Amboy packs 175 three-oz pouches and 150 three-and-a-half-oz or 140 four-oz pouches per film-lined corrugated case.
Cases can be sent to customers, of which Gusse has identified in two distinct markets: retail, via food processors, and foodservice channels.
Retail sales will comprise pouches for meal kits, salads and pasta kits. Gusse believes these markets will be slower to commercialization than foodservice only because they require custom ingredient development work. Yet there is great interest in shelf-stable side dishes and meal kits—"faster, more convenient products," describes Gusse. "The market is really driven by HMR [Home Meal Replacement] meal kits. We have several customers and many more that we are working with."
Although secrecy agreements prevent full disclosure, PW has learned that a meal kit application involves a "major" West Coast seafood processor using 3 ?-oz Amboy pouches in a line of frozen precooked seafood items. Rather than cheese, one pouch for scampi contains a butter-garlic sauce, while another for shrimp holds cocktail sauce. The pouches are unprinted. This demonstrates the pouch's durability, which makes it versatile enough to be stored ambient or frozen. Just how tough are they?
"Amazingly tough," opines Homb. "They're even tough enough to be packed inside dry pasta mixes and resist puncturing," adds Gusse.
Clarity is another benefit. Compared to foil laminate pouches, Amboy's clear pouches are "more appealing," states Gusse, "because you can see the product. That's more important to retail than foodservice customers, but for either market, it would be a drawback if we didn't have the product in clear film."
The pouches also answer consumers' uncertainty with a product's history: "This product is never opened except by the consumer," Gusse emphasizes.
One key market is in schools, while another would be in quick-serve restaurants, where the pouch's portability makes it ideal for take-out or drive-through sales, Gusse claims. Another opportunity is for recreation segments, which include amusement parks and concessions of all types.
Will the small pouches cannibalize Amboy's own #10 can equivalent pouches?
"That's a possibility within school segments and in concession sales," acknowledges Gusse, "but convenience store sales would be incremental."
Products that Amboy can run include cheese sauces, gravies, puddings, ethnic sauces and alfredo sauces. "Cheese sauce holds the most potential," Gusse emphasizes, "but the choice will be driven by customers' requirements."
In a hurry? Request more info via Web-based reader service by clicking on the reader service number.
Or you can jump right to their Web site.
Companies in this article