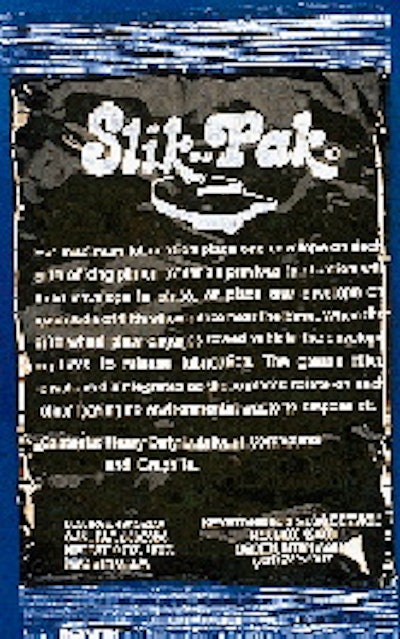 Each year the Films Division of Mobil Chemical Co. (Pittsford, NY) presents awards to converters and packagers for innovative flexible packaging and label applications that incorporate Mobil film. This year the Golden Mummy and Pyramid Awards were presented Nov. 10 in Chicago during Pack Expo.
Keystone Business Services, Ogden, UT, used Mobil Bicor® AXT oriented polypropylene for a pouch that holds 2 oz of lubricant for tractor-trailers. The 110-ga flexographically printed two-color pouch has an acrylic coating on the outside and a polyvinylidene chloride coating on the inside to provide barrier and seal integrity required to prevent the lubricant from leaking. The film is printed by Zimmer Customer-Made Packaging (Sacramento, CA).
Dennis Spiers, president of Keystone, a manufacturer of lubricant, says he's happy with the package. "What gained everyone's attention is that we used a food-grade film in an industrial application," he says.
While Keystone garnered a Golden Mummy Award, Wisconsin Rapids, WI-based Northland Cranberries earned a Pyramid Award. The company makes Northland 100% Juice Cranberry Blends (far right). The four-color, offset-printed labels use Mobil Label-Lyte® LS 447 biaxially oriented PP film, and are glue-applied to polyethylene terephthalate bottles that hold 16 oz of juice. The 3-mil film resists moisture and abrasion, important attributes in the distribution and retailing of this product. The labels are printed by Hammer Lithograph Corp. (Rochester, NY).
Jim Tierney, Northland's marketing manager, says the company switched from a paper label because of the film's strength and durability. Tierney says more product makes it to the shelves with labels intact, therefore fewer bottles must be relabeled.
Golden Mummy awards also went to:
* Warner-Lambert, Morris Plains, NJ, for hanging bags for Trident, Burst and Dentyne brands of gum. The converter is Lawson Mardon (Bellwood, IL). Warner-Lambert changed from a PET/low-density PE lamination to Mobil's Bicor® LTSC OPP film because it provides a better moisture barrier along with a good surface for printing.
* Dulsa, San Antonio Las Isla, Mexico, for Maxi 5's tablet gum package. The converter is Compania Impresora Simon (Mexico City, Mexico). Dulsa sought an alternative to cellophane and found it with Mobil's Procor® AB-X OPP film. The film offers a high-gloss appearance and reportedly extends the shelf life for the gum.
* Austin Quality Foods, Cary, NC, for Dolphins and Friends crackers bag. The converter is Bryce Inc. (Memphis, TN). Austin wanted a material with good moisture barrier and graphic appeal. It chose a lamination of Mobil's Bicor® SPW-L film, an OPP film, 0.5-mil, LDPE and Mobil's Metallyte® BSM-2 film, also an OPP film. The lamination is said to provide good handling characteristics on vertical form/fill/seal equipment. It also delivers the moisture and light barriers needed to keep the crackers fresh.
Pyramid awards went to:
* The Clorox Services Company, Oakland, CA, for Tilex Fresh Shower Daily Shower Cleaner and Pine-Sol Spray Cleaner label. The back label is made of 2-mil clear PP and Mobil's Label-Lyte® 302 BOPP film. Quality Assured Label, Inc. (Minnetonka, MN) UV flexo-prints the label. Quality Assured says two surfaces are printed, but will not divulge which two or how the surfaces are laminated.
* S.C. Johnson & Son, Inc., Racine, WI, for an Edge ProGel shaving cream label that replaces direct printing on aerosol cans. The label is a two-layer lamination whose top layer is Mobil Label-Lyte 101 BOPP reverse-printed flexographically in six colors by converter CL&D Graphics (Oconomowoc, WI).
Companies in this article