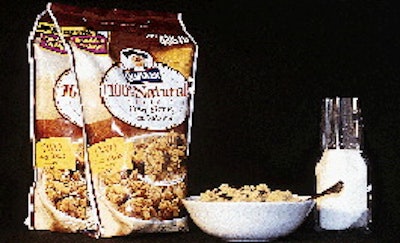 Since February, club stores located primarily on the West Coast and in select East Coast locations have sold the product in one of the most innovative cereal packages to hit the market in years: a stand-up pouch that includes two separate, resealable zippered pouches, each containing 30 oz of product.
For years, packagers and suppliers involved in the cold cereal category have talked of replacing the ubiquitous bag-in-box format with a flexible package for cereal. The potential for lower materials costs and source reduction made such a move seem attractive. But few have made the switch, partly because cereal manufacturers have too much invested in bag-in-box packaging equipment. Also, it seemed no one wanted to be the first to step from the on-deck circle to the plate. Now Quaker Oats has.
While the Chicago-based marketer wouldn't volunteer much information about its intriguing package, it did confirm that the cereal was filled by contract packer Roskam Baking (Grand Rapids, MI). The task is executed on an FBM 22 horizontal form/fill/seal machine from Laudenberg, a company based in Germany and represented in the U.S. by Profile Packaging (Sarasota, FL). After filling and heat sealing, a Laudenberg Duo Pac(TM) module heat-seals the two pouches together at the top. A handle is then die-cut out of that area.
The two-pouch configuration is similar in style to Nestlé Suisse's twin-pack of 1-kg handled, stand-up pouches for powdered cocoa drink mix introduced in Switzerland about two years ago (see PW, April '97, p. 70).
Each of Quaker's two pouches includes a resealable zipper from Minigrip/Zip-Pak (Manteno, IL). The film is supplied by Printpack (Atlanta, GA). When asked, Quaker would only reveal that the structure includes an outer layer of polyester that's printed flexographically in eight colors. The pouch's graphics would likely stand out on even the busiest supermarket shelf. While its price varies between club stores, the sample purchased by PW sold for $6.99.
Quaker Oats' senior consumer response analyst Mellisa Rubin says product shelf life is six months. Asked about the product's sales to date or longer-term sales goals, she would only say, "It's a bit early to judge its success, but the reaction we've received so far has been positive."
Companies in this article