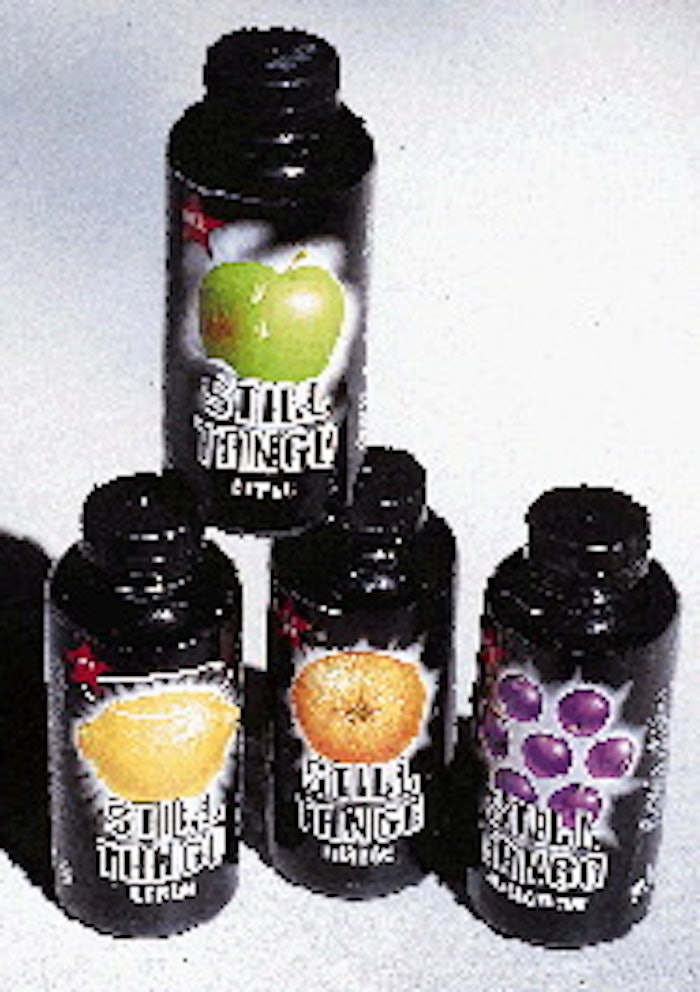 Atlanta-based Coca-Cola has bagged more than its share of publicity lately for the way it uses proprietary container shapes as powerful marketing tools.
Also busy whipping up some wild shapes of its own for its Tango brand beverages is Britvic Soft Drinks, Ltd., of Chelmsford, Essex, England.
"Keep in mind, we compete against the biggest trademark on the planet in Coca-Cola," says senior brand manager Jeremy Crisp. "So our on-shelf look is a big key for us."
Among Britvic's custom-molded bottles is a 400-mL (13.5-oz) bottle of polyethylene terephthalate for Still Tango, a noncarbonated fruit-based drink that sells for about 55p (88¢) at supermarkets as well as convenience store outlets. Injection stretch/blow-molded by Schmalbach-Lubeca (Manchester, MI), the bottle weighs 25 g and has a 38-mm neck finish designed to make gulping easy. It takes a threaded closure, with a breakaway TE feature, custom-molded of polypropylene by Bericap (Paris, France). It has a roll-fed wraparound PP label applied by a Contiroll labeler from Krones (Franklin, WI).
Appearance aside, the bottle is significant because it's filled aseptically. Like other firms whose beverages are aseptically filled in PET, marketers at Britvic like the consumer appeal that PET has. They could, of course, have gone the hot-fill route with a heat-set PET. But they appreciate the improved taste and nutrition content that high-temperature/quick cool-down aseptic processing provides. They're also able to specify a bottle considerably lighter than a comparable heat-set bottle would be.
The Still Tango bottles are filled at Britvic's Chelmsford, England, plant. Installed there in late 1994 was a monoblock rinser/filler/capper in a special clean room with overpressurized air to keep out bacteria. First is flash pasteurization of the juice at 91°C (195°F) for 30 seconds. This is done in a plate pasteurizer supplied by La Girondine (Le Bouscat, France).
Inside the Class 100 filling room is a 72-head rinser and 54-valve filler, also from La Girondine, and a 16-head capper from Zalkin, represented in the U.S. by Fowler Products (Athens, GA). According to La Girondine, this trio of rotary machines is capable of filling Britvic's bottles at 600/min, and the product emerging from the line has a shelf life of six months at ambient temperature.
Just before entering the rinser, bottles are sterilized inside and out with what La Girondine calls "ozonized water." An on-site ozone generator is used to send liquid ozone into the water that is used to spray the bottles. After this sterilizing spray, bottles are water-rinsed inside and out and then dried with sterile air. This accelerates the evaporation of the ozone, which is unstable in the first place and evaporates readily. According to La Girondine, 100% of the ozone is eliminated before filling begins.
Relaunch
Until May, the only Still Tango flavor produced was orange, so the sophisticated Chelmsford aseptic filling line had capacity to spare. Also, bottles were supplied by a vendor who molded them via an integrated single-stage system.
Much of this changed last May when Still Tango was relaunched. Added to the product lineup were three more flavors: lemon, apple, and black currant. Advertising and promotional budgets were expanded, which had Britvic anticipating far greater demand for Still Tango. That's when Schmalbach-Lubeca was brought in. The firm invested more than £3 million ($4꼞ꯠ U.S.) in new tooling by Husky (Bolton, Ontario, Canada) for preform manufacturing and a new Krupp Corpoplast (Hamburg, Germany) 17/7 blow-molding machine.
"When Still Tango reached a sufficiently high volume, it made the two-stage process by far the most efficient method of production," says Schmalbach-Lubeca's David Warburton.
This summer, Britvic ran its aseptic bottling line one or two 12-hr shifts, five days/week. As summer wound down, production tapered to single-shift days, though when demand rises, the capacity will be there to meet it.
According to Britvic packaging manager David Rose, the bottles made for aseptically filled Still Tango get special treatment from Schmalbach-Lubeca. They're palletized eight layers high and are separated not by paperboard slip sheets but by 3-mm thick PP sheets that are collected at Britvic and sent to a firm that washes and returns them to Schmalbach-Lubeca for reuse. Also applied to pallet loads leaving Schmalbach-Lubeca are top frames of varnished wood, then strapping and stretch wrap.
"By avoiding paperboard slip sheets we avoid mold spores, and mold is the biggest problem with a product like this," says Rose. "It's not yeast, bacteria, or fermentation, but mold growth."
Black PET?
One other feature that makes the Still Tango bottle unusual is that it's black.
"Black PET is difficult," says Schmalbach-Lubeca's Warburton. "You have only a small blowing window because the black absorbs the heat so quickly."
Schmalbach-Lubeca found that by cycling the molding machine slightly slower, good black bottles can be produced consistently. "But it's still a challenging bottle," says Warburton. "We have to hold everything very tight."
A liquid colorant is added to the resin hopper of the Husky injection molding machine used to make the black preforms. Needless to say, the black PET has some observers concerned that the stream of post-consumer PET waste, most of it clear, would be contaminated by the black. But according to Warburton, a plan now in development would separate clear PET from green, amber, black or any other color. Schmalbach-Lubeca would then buy the colored PET and use its Supercycle technology to clean the material and reuse it in new black bottles.
The Supercycle process (see Packaging World, Oct. '94, p. 2) is a nonrepolymerization method of washing post-consumer PET flake at temperatures up to 500°F. Developed originally by Johnson Controls (the division is now owned by Schmalbach-Lubeca), the reprocessed material is currently used in the U.S. and elsewhere for food and beverage containers.
Warburton points out that colored RPET is uniquely suited for reuse in a black bottle. "It's the only end-use application that lets you use 100% Supercycle material in a PET bottle," he says. "With other colors, even with clear PET, that go through the Supercycle process, you can't use more than 50 percent RPET resin in making new bottles because you'll get a color distortion. But when you're adding a black colorant, it overcomes any possibility of color distortion." Preliminary tests by Britvic and Schmalbach-Lubeca have proven that much.
Britvic's Rose acknowledges that the issue of recycling the black PET remains problematic. But he also observes that recycling of PET in any color is only in its early stages in the U.K. So clear PET is almost as likely to be landfilled as black. All the same, Rose emphasizes that Britvic's intention is to come up with some process to recycle more of its black PET bottles back into beverage containers, and he agrees with Warburton that Supercycle holds promise.
More black packs
Though Still Tango was the first to sport the black look, Britvic recently extended it to its carbonated Tango brand drink, available in the same four flavors. Packages include 330-mL glass, 330-mL aluminum and steel cans, and PET bottles in three sizes: 500 mL, 1.5 L and 2 L. All of these are filled on conventional carbonated soft-drink filling lines.
The all-black decorating strategy was initiated in June of 1996. At the time, PET containers used by Britvic were clear. According to Tango senior brand manager Crisp, the black look has done "superbly."
"What we have in the supermarket," he continues, "is a wall of black, with large PET bottles on the bottom, six-pack cans on the next shelf, single-serve PET bottles above that, and single cans on top. It gives us a solid impact when people walk by."
Producing most of the black PET bottles for the carbonated Tango line is Schmalbach-Lubeca. Relying on a Husky system for injection molding of preforms and a Sidel (Norcross, GA) blow-molding system, Schmalbach-Lubeca operates a "through-the-wall" bottle manufacturing line at Britvic's bottling plant in Beckton, a London suburb.
Last but not least
And that brings us to what might be the most imaginative Tango package of all: a 330-mL (11-oz) glass bottle for on-premise sales of Tango in four flavors. With elaborate patterns molded into the sidewall, the container has a unique tactile quality. Not content with one pattern, Britvic specified one for each flavor. Senior brand manager Crisp explains the strategy.
"Each flavor has a special taste sensation, which we promote in our advertising. We describe it as 'a hit of orange,' 'the seduction of apple,' 'the euphoria of lemon,' and 'the charge of black currant.' The bottle patterns are meant to suggest these sensations. It's a matter of bringing the key message of all our marketing communications and sounding it strongly right on the pack."
Touch is all important, so the labels are kept small and located high on the neck to encourage drinkers to hold the bottle by the main body, where they can easily interact with the design.
In addition to the patterns, all four bottles are given a distinctive matte-black coating by bottle supplier PLM Redfearn (South Yorkshire, England). Using its Kaleidocoat technology, PLM Redfearn sprays inverted bottles with a finely atomized coating. Bottles are then cured using infrared heat at a temperature between 150° and 200°C (302° and 392°F). A combination of heat and a catalyst enhances the adhesion and durability of the electrostatic coating. Forced cooling with air brings the containers down rapidly to handling temperatures. When it's time for recycling, the coating, says PLM Redfearn, is simply burned off in conventional cullet reprocessing with no harmful byproducts.
Crisp confirms that the elaborately decorated bottle carries a premium. That's why, he explains, it's only used for on-premise business, where margins aren't as squeezed as they are in the retail arena. Available in limited distribution since February, the bottle was scheduled for national roll-out in September.
Companies in this article