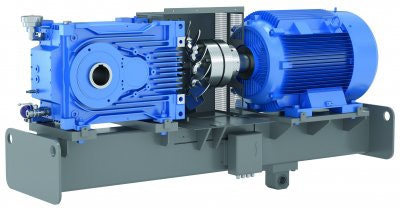 Available in seven case sizes, units provide powers from 50 - 1500 HP, output torques between 130,000 - 600,000 lb-in., and speed ratios from 6:03 - 22.4:1. They can also cover ratios up to 30,000:1 when paired with an auxiliary primary stage gear unit.
Nord's MAXXDRIVE XT right-angle industrial gear units have a high thermal load capacity without the need for external cooling thanks to their strong ribbed design, enhanced axial fan design, and air guide covers. They are designed to keep conveyors running even under the harshest conditions, ensuring materials flow smoothly through the entire system. Additionally, large roller bearings and center distances increase the load capacity and service life of components, reducing the amount of routine maintenance required to keep the units operational, while a shaft axis offset allows for an incredibly compact design.
The MAXXDRIVE XT units can be individually configured for even the most specialized functions, including those where low speed ratios and high power are both required. Gear units used for these types of applications need to be extremely robust and highly resistant to dirt and debris while operating. With that in mind, all MAXXDRIVE bearing and sealing surfaces are machined in a single process, greatly reducing the possibility of contaminants entering the drive cavity and allowing for extremely quiet operation compared to other industrial gear units. Whether used in belt conveyor systems, mixers, mills, sorting drums, or crushers, MAXXDRIVE industrial gear units can achieve very high output torques, making them a go-to solution in heavy-duty applications for more than ten years.
---
Join us for "The Most Engaging Virtual Event for the Entire Industry" at PACK EXPO Connects, November 9-13. Live demos of equipment and products, live chat with product experts, expedited product search, and more. Attendee registration opens September 15. Be notified when the site goes live by clicking here.
---
Companies in this article