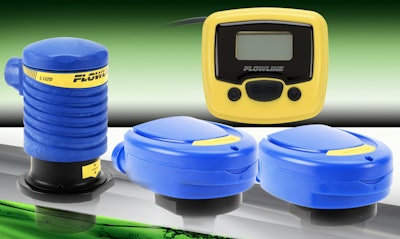 Constructed with PVDF transducers and NEMA 4X polycarbonate enclosures, the sensors are suitable for chemical, water, and wastewater applications and are available with single and multi-function capabilities including continuous level measurement, switching, and control.
The Echotouch LU20 liquid level transmitter features continuous level detection up to 18 ft. Adjustable dead band and range filters eliminate false echo returns. Calibration takes less than a minute using the LCD display, four-button interface and intuitive calibration menu.
The EchoSpan LU series ultrasonic liquid level transmitters provide continuous level measurement up to 32.8 ft. with a 4-20 mA signal output. An LCD display indicates level in inches, centimeters, and percentages. Fail-safe intelligence and diagnostic feedback provide simple troubleshooting, and configuration is simple via the integral pushbutton display module.
The EchoSwitch LU series ultrasonic liquid level sensors provide continuous level measurement up to 26.2 ft. Three programmable relays provide level switch or level control functions and a 4-20 mA output. Relays can be configured on a single setpoint or latched on two setpoints for automatic fill or empty in simplex, duplex, triplex level control modes with selectable time delay and fail-safe logic.
The LI40 PodView digital level indicator is a general purpose indicator that displays engineering units for level or volume when combined with all EchoPod level sensors, and is compatible with WebCal 6.0 software (free download at www.automationdirect.com). Fitted with a corrosion-resistant NEMA 4/IP65 enclosure, it can be field mounted for local indication as well as be used to make simple setting changes to the sensor. PodView displays sensor output and can reconfigure sensor set points on the fly without needing to connect to a PC. The PodView display provides indication up to 15 ft. from the sensor and can be transferred from sensor to sensor without any configuration changes to the display.
Many Flowline ultrasonic level sensors and transmitters are easily configurable via the WebCal PC software (available for free download at www.automationdirect.com) and the available USB fob adapter. The software is available as a free download.
Companies in this article