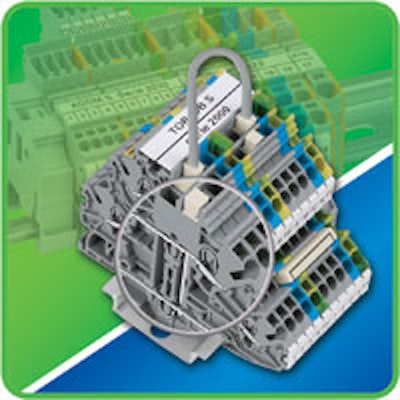 Users can vertically common both levels of a double-deck terminal block or multiply potential over several adjacent DIN-rail terminal blocks, extending the functionality of select terminal blocks to help streamline BOMs, stock, and designs.

The Vertical Jumper carries a 13.5 A/500 V rating. The Push-in Wire Jumpers feature a 9 A/800 V rating (AWG 18) and are offered in 60 mm, 110 mm and 250 mm lengths to meet varying requirements.
The new jumpers join the growing TOPJOBS portfolio of commoning options, including: Adjacent Jumpers for continuous commoning of one potential in a single jumper slot; Push-in Jumper bars for standard connection of different DIN-rail terminal blocks; Staggered Jumpers for commoning different potentials in a single jumper slot; and Step-down Jumpers for combining different cross sections.


Companies in this article