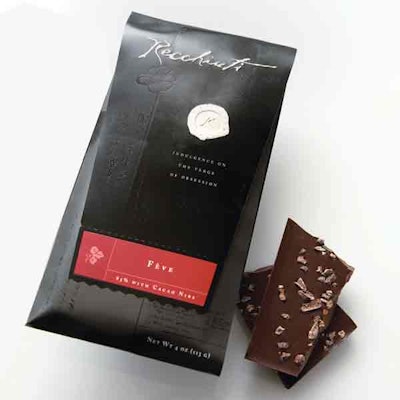 "Aside from creating the best artisan chocolates we know how to make, Recchiuti Confections has always been committed to beautiful and innovative packaging," says Michael Recchiuti, chef-owner of Recchiuti Confections, San Francisco, CA. "With the immense popularity of our bars, we decided it was time to take the entire bar experience to the next level. Our customers are thrilled with the new design."
The new package was created by The Engine Room (
www.theengineroom.cc
), which has designed Recchiuti's boxes for the past six years. Besides the premium elegance, principal/creative director Dave Braden says the packs were designed for fast loading and sealing by Recchiuti personnel.
The packaging material is converted and supplied by Everett Graphics (
www.everettgraphics.com
) using 100# white uncoated sheet paper it receives from Midwest Laminating & Coatings, Inc. (
www.midwest
laminating.com) laminated with a food-grade foil lining. Everett offset-prints the substrate in four colors plus special matte varnish, then hot-foil stamps it in two passes before embossing. The finishing steps of die-cutting, folding, and gluing also include the application of a pressure-sensitive tape with liner beneath the backside of the pack's flap opposite the colored flavor designator logo. The flap is perforated for easy opening.
At Recchiuti, the chocolate bars are loaded into the packs, the p-s tape is exposed and the packs are sealed. After an initial test run in November, full production began in February.
Recchiuti offers three chocolate bars, Bittersweet, Fève, and Dark Milk Chocolate. The 4-oz bars retail for $7 each while a set is available for $18 either online at the company Web site or from its retail store in San Francisco's Ferry Building Marketplace.
Companies in this article