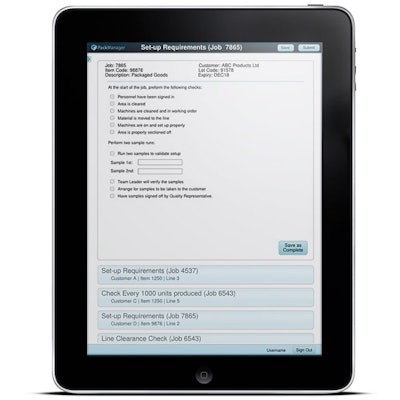 Leading-edge contract packagers are looking for way to economical automate their operations, and one option seen on the floor at PACK EXPO is Nulogy Corp.'s new PackManager™ Quality Control (QC) application. Nulogy is unveiling the patent-pending technology to the North America market at the show providing interactive demonstrations at its booth in the lower East Hall.

The demonstrations are allowing participants to see first-hand how the application can automate their contract packaging businesses, as they use an iPad to quality control check Halloween candy.

"The PackManager QC application will transform the industry by providing contract packagers and consumer goods customers with accountability and real-time visibility by showing instant status visibility, including digitally signed and time-stamped results," said Nulogy CEO, Jason Tham.

The PackManager QC application, Tham explained, are available free of charge as a standalone quality-control product, and an enhanced version of the application also will be available as part of the total PackManager software system.

Tham added that contract packagers running the end-to-end services will reap the full benefits of the enhanced, new application, including automatic assignment of quality control checks on production lines and items, and standardized scorecarding capability by using the system's reporting tools.