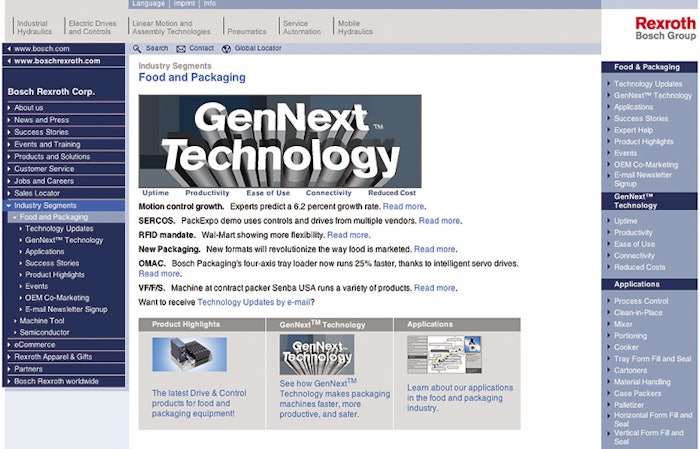 The new technology is said to offer greater uptime, higher productivity, easier use, more open connectivity, and lower costs.
To tout this new technology, Bosch Rexroth redesigned this section of its site to include extensive application-specific information for different packaging tasks, industry news and views, and success stories from OEMs and users. Visitors can also sign up for technology updates by e-mail.
The site also includes an "Expert Help" section that allows users to ask food and packaging-related questions. Following a short form, users can type their questions or requests, hit send, and have their problems looked into by a Bosch Rexroth packaging expert.
The main focus of the page, however, remains the GenNext technology. It is designed to demonstrate the technology's ability to, as the company states, provide superior control, predictive maintenance, advanced diagnostics, and simplified use. Multiple case studies available on the site demonstrate how GenNext works with machines equipped with electronic, hydraulic, pneumatic, and linear-motion technologies.
The page retains the site's easy navigation and search capabilities. Different language options are available and the site is equipped with a "Global Locator" to help customers anywhere in the world locate the nearest Bosch service center.
—Abbey Lewis-Reinholdt
Companies in this article