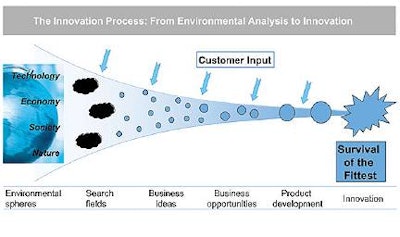 That was the key message contained in "Innovation-Driven Automation," a presentation at the 1st Rexroth Global Technology Summit held January 25-26 at the Bosch Rexroth headquarters in Lohr, Germany. The presentation was delivered by Reiner Leipold-Buettner, chief operating officer and the man chiefly responsible for engineering and manufacturing at Bosch Rexroth.
Leipold-Buettner reminded his audience of 60-some journalists from around the world that the rapid pace of development in electronics has reduced product life cycles as never before, especially in the field of automation. If a company can sell mature products at a lower price than the competition, market share can indeed be gained, said Leipold-Buettner. "But continued profitable growth can only be achieved by introducing new products and addressing new markets," he said. "One's motto should always be 'Innovation is indispensable.'"
Leipold-Buettner went on to describe Bosch Rexroth's own innovation process (schematic drawing shown above). Systematic and structured, it's one way of ensuring that innovation is not left to chance .
It begins abstractly, as current business and societal trends are analyzed. From this analysis there emerge what Leipold-Buettner called "environmental spheres."
"As we observe these, we derive trends and start looking for ideas without any specific solutions in mind," said Leipold-Buettner. "This process is always running in the background and enables us to start working on topics today which may not be relevant until a few years' time."
Analysis of the rather abstract environmental spheres leads to the identification of "search fields," said Leipold-Buettner. "From these we develop business ideas through targeted idea searching, which then triggers actual product ideas, which eventually become innovations. Changes in the marketplace and customer input are constantly factored in. In new markets, and this is especially true in China, regional particularities need to be taken into account in order to realize our 'Design to Region' goal. As relevant issues surface—such as legislation, for example, or advances in materials science like nanotechnology—we assign specific experts who act as our sensors. They summarize their findings at regular intervals in trend reports."
Continued analysis leads to the formulation of a list of potential problems and whatever actions are needed to address them. Eventually the process leads to starting points for
* Customer innovations: new requirements are established by the customer whose needs are not met with existing products.
* Product innovations: existing product concepts are realized with new technology, e.g., the replacement of metal with plastic.
* Process innovations: whereby an existing product is manufactured differently, which usually means more cost effectively or with improved product quality.
"As a rule, " said Leipold-Buettner, "product function and product cost are central issues, but product application is also an interesting area for innovation. Eventually, we separate the wheat from the chaff with pre-development preliminary studies and innovation workshops. It's important that this process is structured and systematic and that we keep pursuing it at frequent time intervals several times a year."
Bundled technology
Also addressing the two-day technology summit was Bosch Rexroth CEO Manfred Grundke (photo shown above). In January 25 opening remarks that emphasized the bundled technology capability—hydraulics, pneumatics, linear motion and assembly, and electric drives and controls—that is the Bosch Rexroth trademark, Grundke also reminded his audience of Bosch Rexroth's continued support of the OMAC Packaging Workgroup.
The following day, in a session with just the U.S. contingent of journalists, Grundke acknowledged that current exchange rates are the equivalent of a 30% cost advantage for U.S. manufacturers exporting to Europe and a 30% penalty for European manufacturers selling into the United States.
"Going forward, it will be important to find ways to adjust for currency fluctuations," said Grundke. "One sure strategy is to make product close to where the customers are. Chinese products for Chinese markets, if you will."
Noting that the United States holds especially promising potential for sales growth, Grundke indicated that better representation was needed in the Western part of the country and that a new office in California was being explored.
Grundke also confirmed the sale of Bosch Rexroth's robotics business. "Prices are under tremendous pressure in that sector," he said. "Our robotics business was too small, and we didn't want to make an acquisition to make it bigger. We'll still supply robots, we just won't manufacture them."
Asked what he felt was the key engineering issue facing Bosch Rexroth customers, Grundke had this to say.
"They want machine uptime and reliability. They're not looking for faster, more powerful, or more complex. If anything, they're looking for simplicity. They want to reduce investment cost and increase flexibility, too."
As for the next big exhibition on the horizon, the Hanover Fair, Grundke said that one of the focal points at that show will be "Project Brain."
"It's one engineering and control interface for all our products: hydraulic, pneumatic, and electric," said Grundke.
Companies in this article