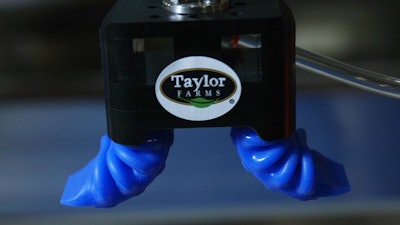 To bring its game changing robotic end effector to the marketplace, Soft Robotics's Carl Vause says that a whole new approach to controls had to be taken.
The traditional method, he says, is that you source your vacuum cups from one of the suppliers that are out there and then you find a vacuum generator. Then you get a PLC to control the pneumatic valve that puts air through the vacuum generator attached to the cup. "It's a matter of buying available components and building the system, and then you have to plug that into your robot controller and then program it up and work on the timing," says Vause.
But because the Soft Robotics technology is so unusual, the firm realized it had to design and manufacture its own microcomputer-based board. "This gives us a turnkey control system for the end effector but at the same time we can get that very high-speed millisecond gripping action that's repeatable and reliable," says Vause. "Our control system plugs into the controller, and then we take air and we do all the pneumatic components, integrate them with our own electromechanical control system, and it plugs right in. So when I say you can get up and running in minutes, it really is just a matter of hooking the controller to your robot and plugging air into the box. The only thing that goes from our control system to our gripper is a pneumatic line and you're up and running."
When asked why not simply rely on any one of the many technology providers who focus on control solutions, he says such traditional approaches were indeed considered. But the uniqueness of these end effectors demanded a whole new approach.
"Just to give you some perspective, at the outset we used to let customers come up with their own control system if they really wanted to," says Vause. "But that approach just led to frustration. So now we simply say, 'Here is the control system. It's going to be worry-free. Just plug it in and you're up and running.' And that, after all, is the key to ROI—how soon can you get a system running?"