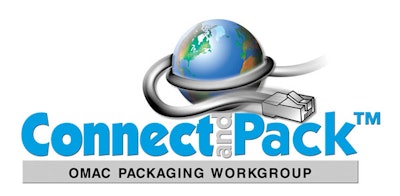 The OMAC Packaging Workgroup (OPW) of OMAC (the Organization for Machine Automation and Control) will showcase the cost benefits of Connect-and-Pack™ standards with vendor demos in their booth and with a seminar at Pack Expo Las Vegas 2009. The OPW booth (C-949) will be located in the Association Pavilion in the Central Hall, near registration.
The OPW booth demonstration will consist of five different companies showcasing the cost benefits attained from utilizing the OMAC Connect-and-Pack standards on the human machine interface (HMI), manufacturing execution systems (MES), enterprise resource planning (ERP), and control functions.
The OMAC Connect-and-Pack standards of PackML and PackTags were approved in August 2008, as part of the ISA88 standards. Connect-and-Pack standards make packaging operations more effective by simplifying customization and integration, which enables world class packaging operations.
According to OPW, the cost benefits realized by both users and machine builders implementing the Connect-and-Pack standards include improved operational and equipment reliability, optimized operations through an integrated supply chain, lower engineering costs, lower training costs, and shorter project cycles. The versatility of these standards allow for these benefits to be achieved across various functions including HMI, MES and ERP, and control systems.
The companies participating in the OPW in-booth demonstration, exhibiting the cost benefits of the OMAC Connect-and-Pack standards, include B&R Automation, GE Fanuc, Schneider Electric, Wipro, and Wonderware. These companies will be demonstrating how Connect-and-Pack standards are implemented on their systems and the cost benefits both users and machine builders are realizing from use of these standards. In addition to the in-booth demonstration, OMAC will conduct a Connect-and-Pack seminar at Pack Expo on Wednesday, October 7, from 2:00 to 4:00. Details can be found at www.omac.org/seminars.
Companies in this article