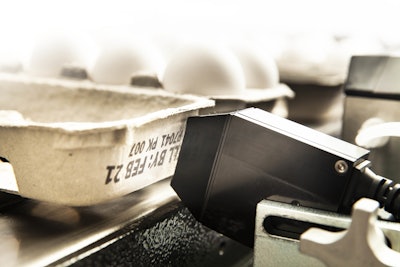 CoPilot Flex is engineered for simple integration on existing egg packing lines. The system's compact design allows for narrow mounting in nearly every zone of an egg packing process, eliminating the need for after-market engineering or modifications to conveyors. CoPilot Flex's small printhead is designed to adjust to match the slope of the egg carton and is capable of inverting the user's message, meaning the CoPilot Flex can print on the end of the carton in the open or closed carton zone. The system also features a convenient 200 mL snap-in ink cartridge for quicker fluids changeover.
A 4.3 in. full-color touchscreen provides access to the system's internal messages and print functions. Messages are created and edited on Squid Ink's easy-to-use Orion™ PC software and transferred via USB, Ethernet, wireless, or optional Windows® tablet. The 10.1" tablet is ideal for users who want message creation and editing capabilities on the production floor. For multiple print locations, an unlimited number of CoPilot Flex printing systems can be connected via Ethernet or wireless network and controlled through one central Orion PC.
The CoPilot Flex can be ordered to run either oil or solvent-based inks. Additionally, Squid Ink has developed a specially formulated ink for the egg industry, SI-PZ4200, a solvent-based inkjet ink designed and tested for excellent adhesion properties on pulp, foam, and clear PET egg cartons.
Companies in this article