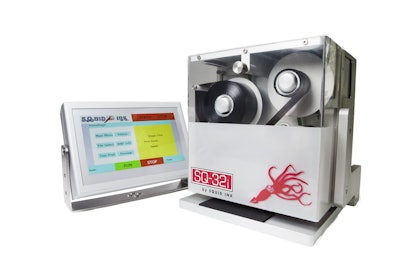 Squid Ink offers intermittent and continuous TTO equipment capable of printing 32mm x 46mm with our SQ-32i model, and 32mm x 106mm with our SQ-32c continuous model. For applications requiring more print information, the SQ-53i TTO printer offers a print area of 53mm x 53mm and 53mm x 106mm with the SQ-53c continuous model. The intermittent and continuous 32 and 53 models are all capable of printing at speeds of up to 500PPM.

Squid Ink TTO printers use thermal printheads paired with thermal transfer ribbon to apply a consistent and reliable mark on user's products. The SQ-32 and SQ-53 models offer high speed printing of incredible looking variable text, serial numbers, barcodes, and graphics at a razor-sharp 300 DPI. Our TTO machines also feature arm ribbon control to prevent ribbon breakage, and a 600 meter length ribbon provides long run times between ribbon changes. Best of all, Squid Ink's TTO printers minimize the ribbon gap between prints to 0.5 mm or less to save ribbon and increase efficiency.

TTO 32 and 53 Series printers are designed to work as an integral part of a user's day-to-day packaging operation. A simple, easy-to-use 7 in. full color touchscreen controller provides a quick and easy way to program, edit, and recall messages right at the production line. Multiple messages can be stored on a USB drive and transferred from coder to coder for quick and simple message changes. Squid Ink's TTO printers easily mount to intermittent or continuous vertical or horizontal form/fill/seal machines, pouch filling machines, or tray-sealing machines to give users the ultimate in flexibility. Mounting bracketry is available to support a user's specific equipment, and can be adapted to fit virtually any packaging machine.


Companies in this article