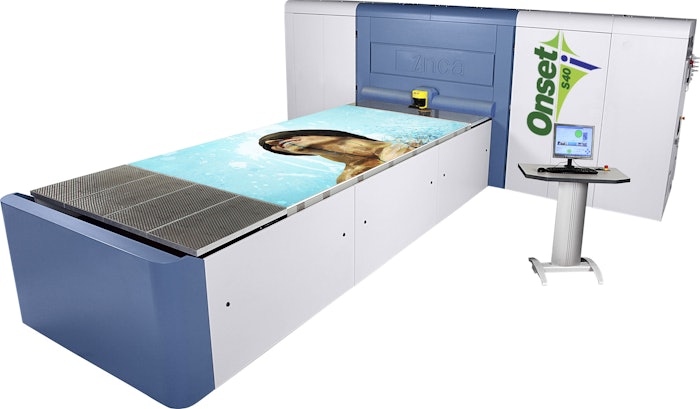 The new S40i includes dual white channels by utilizing all eight ink channels of the press. The additional channels enable printing white with speed and quality.
The Inca Onset S40i with White incorporates 224 Fujifilm Dimatix print heads, including 56 for jetting white, with quick start-up times and reliability, even with heavier pigmented inks, such as white. The S40i with White uses Fujifilm's Uvijet OB or OZ ink systems, which provide a full color gamut and finishing properties.
With Inca Onset S40i with White presses do not run slower when printing white, or require a "double hit" in order to get the desired opacity.  In fact, in many instances the presses run faster when printing white than four-color process.
The printer is able to produce high-quality POP display graphics economically at throughput speeds of up to 6,000 sq. ft./hour (CMYK only) equivalent to 112 full bed sheets/hour, and onto substrates up to 2-in. thick. A choice of unidirectional, bi-directional, and super high-quality print modes can be selected, depending on the specific job requirements.
Companies in this article