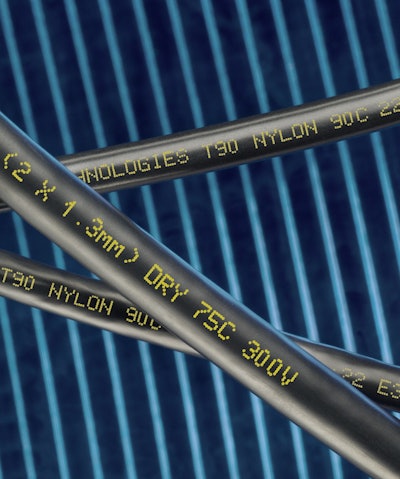 Specially formulated to resist ink code transfer when printing on extruded and spooled cable and wire, V491-C ink is suitable for cable printing and coding various extruded rubber products prior to entering the high temperature vulcanization curing process.
The introduction of  V491-C yellow ink broadens the range of applications of the 1710  ink jet printer by offering another high-contrast pigment ink.

The V491-C yellow ink helps cable and wire manufacturers designate product qualifications and specifications with exceptional readability on colored cable production lines where yellow ink provides optimal contrast. The ink provides durable adhesion, and can withstand contact, pressure and residual heat as freshly manufactured and coded cable or wire is spooled for storage and shipment--reducing the risk of ink code transfer and fading.

In addition, the Videojet 1710 printer and V491-C yellow ink combine to provide an ink jet printing solution suitable for high-temperature vulcanization processes common to extruded rubber products. While most pigment inks fade or even disappear completely during the curing process, the V491-C yellow ink can withstand 350 degrees F (117 degrees C) high-pressure steam heat and retain its color and critical code information.

The ink's reliability provides code assurance to manufacturers who need keen traceability of product batches and lots. In the event of a recall, manufacturers can quickly track their product and take corrective action to protect their customers.
Manufacturing processes in the wire, cable and extruded products industries are difficult and costly to stop and restart, so the printer uptime, reliability and ease of maintenance provided by V491-C yellow ink has removed many of the challenges associated with pigmented inks by automating once manual processes and reducing maintenance.
Companies in this article