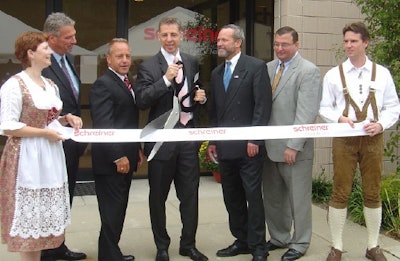 Schreiner welcomed guests--including customers, suppliers, employees and the media--with a live oom pah pah band and traditional German fare. The pharmaceutical label printer's expansion here in the US "is to serve our customers better by being closer," said Schreiner, who pointed out that Rockland County officials, with the help of a Empire State tax incentive package, were very eager to aid the start up of the plant, projected to hire as many as 80 people. Quite a few German employees have relocated to the US and local talent was brought in by an executive recruiter. Gene Dul will serve as president of the Blauvelt, New York facility. The move to the US marks a milestone in the German company's history, started near Munich in 1951 by Schreiner's grandparents.
According to Schreiner, even with continued global market expansion in India and China, the US accounts for half of the injectible label market. With a combination of screen and flexo printing, Schreiner offers specialty peel-off labels, combination hanger labels, brand protection and RFID solutions, expanded content labels and functional syringe labels, fully validated and ISO-certified. With anti-counterfeiting a growing concern, Schreiner MediaPharm is able to partner with another Schreiner company, ProSecure, to offer US pharma companies track and trace solutions such as microprinting or even inks with taggants.
According to US president Gene Dul, pharma companies are still trying to figure out where sustainability fits into the equation. Although Schreiner has launched their own sustainable measures such as recycled paper shipping dunnage and carbon filters on press emission stacks to filter out VOCs, customers have yet to express a desire to change package labels or inks to meet any company-wide sustainable initiative.






Companies in this article