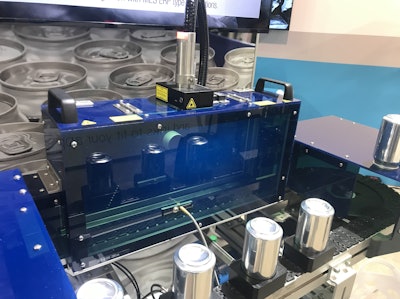 These Videojet fiber laster marking systems feature the smallest marking head on the market today for easy integration into the packaging line and IP69 protections.
"The laser is great for marking onto robust materials including plastics and metals for industries like beverage, automotive, pharmaceutical and medical device. The Videojet 7340 and 7440 compliment our full lineup of CO2, UV and Fiber lasers to mark on a wide array of products and packaging," says Matt Aldrich, Director, Marketing and Product Management – North America.
In addition to lasers, Videojet is also displaying a full range of packaging solutions from the extensive Videojet coding and marking line, including the Videojet 1860 and 1580 continuous inkjet (CIJ) printers, the new Videojet 6530 107mm and 6330 32mm airless thermal transfer overprinters (TTO), thermal inkjet (TIJ) printers, case coding/labeling printers, and IIoT-enabled VideojetConnect™ solutions that leverage advanced analytics, remote connectivity, and the largest service footprint in the industry.
Companies in this article
Videos from Videojet Technologies Inc.