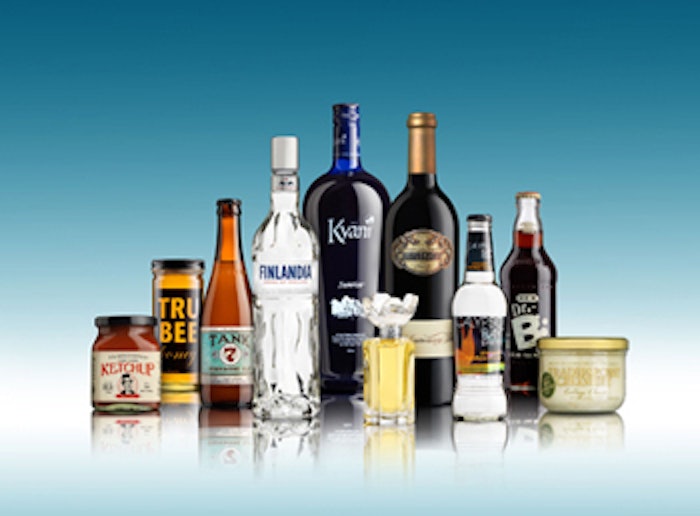 This year's awards recognize 10 CPGs for their achievements in 10 categories: Beer, Wine, Food, Carbonated Beverage, Non-Carbonated Beverage, Organic Food or Beverage, Distilled Spirits, Flavored Alcoholic Beverage, Ccosmetics or Fragrances, and Conversion Recognition (products that have been converted to glass packaging from other forms of packaging). 
"These winning package designs demonstrate that glass continues to be the 'clear choice' for consumers who want a package that complements today's healthy and environmentally conscious lifestyles," says Lynn Bragg, GPI president, who notes that glass is one of the "greenest" packaging choices, being 100% and endlessly recyclable. "Additionally, nothing communicates purity, quality, and value to consumers like a well-designed glass package."
The GPI named the winners of its 22nd Annual Clear Choice Awards through a virtual event on the GPI Web site featuring videos and photos of award-winning product designs. The winners are as follows:
Beer
Winning product: Tank 7 Farmhouse Ale
Manufacturer: Boulevard Brewing Co.
Glass container supplier: Verallia
Glass label supplier: Mainline Printing
Packaging description: The newly designed bottle from Boulevard Brewing Co. maintains consistency with the branding of its Smokestack Series and creates a distinctive appearance on the shelf or the table. The bottle is reminiscent of the shape of the 750-mL champagne bottle with brand embellishment "Boulevard Brewing Co." near the shoulder that enhances the simple, elegant appearance.
Wine
Winning product: Freemark Abbey 125th Anniversary Blend
Manufacturer: Jackson Family Wines
Glass container supplier: Verallia
Label: Collotype
Packaging description: This new wine tells the story of Freemark Abbey, one of the first women-built wineries in the Napa Valley. Josephine Tychson's legacy continues today with the Jackson Family Wines celebration of 125 years of winemaking with the release of "History."
Food
Winning product: Sir Kensington's Gourmet Scooping Ketchup
Manufacturer: Kensington & Sons LLC
Glass container supplier: Leone Industries
Label: Gintzler Graphics
Packaging description: Sir Kensington's is all-natural "scooping ketchup" made from vine ripe tomatoes, apple cider vinegar, and agave nectar. The jar is a hearty glass cube, tapering at the crown to a scooping-size mouth, topped with a large, elegant lid. The bottle's rich design embodies the cutting-edge innovation executed with a wink, a nudge, and a taste for the classic.
Carbonated Beverage
Winning product: H-E-B Dr. B®
Manufacturer: H-E-B
Glass container supplier: Vitro Packaging, Inc.
Label: Vitro Packaging, Inc.
Packaging description: H-E-B Dr. B is a crisp, clean soft drink made with pure cane sugar. The glass bottle is a great example of a clean and sleek retro design with UV-cured inks to represent the vintage soda.
Non-Carbonated Beverage
Winning product: Kyäni Sunrise®
Manufacturer: Kyäni Inc.
Glass container supplier: Vitro Packaging, Inc.
Label: Vitro Packaging, Inc.
Packaging description: Kyäni Sunrise® is a complete multivitamin in the form of a delicious drink. Packed with antioxidants and vitamins, the drink is packaged in a tapered, cobalt blue bottle that gives this premium beverage a clean premium image.
Organic Food or Beverage
Winning product: TruBee Honey
Manufacturer: TruBee Honey
Glass container supplier: O-I
Packaging description: TruBee Honey is a raw, gourmet honey that uses glass packaging to showcase the simplicity and beauty of pure honey. For TruBee Honey, glass is the only choice because it's recyclable and, visually, it's the next best thing to seeing pure, raw honey come out of the hive.
Distilled Spirits
Winning Product: Finlandia Vodka
Manufacturer: Finlandia Vodka Worldwide Ltd.
Glass container supplier: O-I
Label: Eurostampa and Guidotti CentraStampa
Packaging description: Finlandia Vodka is pure and natural and is made from 10,000-year-old glacial spring water and barley grown in Finland's pristine landscape. The crystal clear bottle captures the purity of the vodka through the natural fluid forms of glacial ice frozen in time.
Flavored Alcoholic Beverage
Winning product: Calypso Bay
Manufacturer: American Vintage Beverage Co.
Glass container supplier: Anchor Glass Container
Label: Spear
Packaging description: Calypso Bay is the newest sensation in the Flavored Alcohol Beverage category. The smooth, tapered body with the flared, footed heel presents a superior hand feel for the consumer. The clear liquid allows the colorful back label to show through the product hinting at the flavor within. The flint bottle, topped with a black twist crown closure, and labeling technique, give this package a sophisticated clean look.
Cosmetics or Fragrance
Winning product: Espirit D'Oscar
Manufacturer: Oscar de la Renta
Glass container supplier: Vitro Packaging, Inc.
Packaging description: Esprit D'Oscar Eau de Parfum is a modern interpretation of Oscar de la Renta's signature scent, inspired by chic and sophisticated women of today. The spirit of femininity reimagined in a timeless floral-oriental fragrance that is exceptionally feminine and sparkling in spirit. The shape and clarity of the glass bottle integrate the Esprit D'Oscar concept, resulting in a very delicate design.
Conversion Recognition
Winning Product: Traders Point Creamery Cottage Cheese
Manufacturer: Traders Point Creamery
Glass container supplier: Verallia
Label: Packaging Systems
Packaging description: Traders Point Creamery chose to package their 100% grass-fed organic cottage cheese in recyclable glass containers to further their goal of offering award-winning artisan products to benefit the health of their customers and the planet. The glass jars maintain the cottage cheese's integrity, and the shelf life of the cheese is extended.