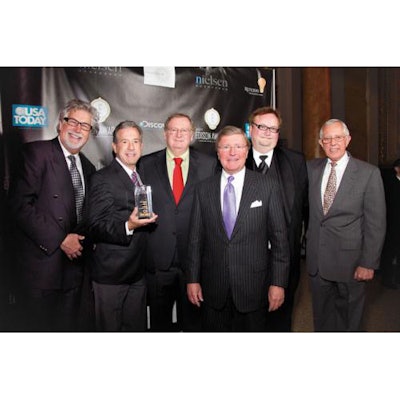 Children's AccuDial®, a product line of Palm Beach Gardens, FL-based AccuDial Pharmaceutical, Inc., is a 2011 Edison Awards winner. Children's AccuDial, won gold in the Consumer Packaged Goods category, one of 12 categories honored by the Edison Awards.
Children's AccuDial features a two-part, patented label system. As the consumer rotates the top label to display the child's weight, dosing information is revealed from the inner label. A caregiver then pours the liquid into the calibrated dosing device (included in the medicine package) to the exact measurement, and the child receives the correct dose of medication.
"Winning an Edison Award is both humbling and exciting for AccuDial Pharmaceutical," says Robert Terwilliger, CEO and chairman of AccuDial Pharmaceutical, Inc. "We were driven to create a product to solve dosing errors of over-the-counter medications for children. We found that by leveraging innovative technology, AccuDial's labeling system is able to meet both a functional and emotional need in consumers that resonates in the market."
The Children's AccuDial is a family of eight pediatric medications available in more than 4,300 pharmacies and stores throughout Canada. Children's AccuDial was recognized this month as the 2011 Product of the Year Canada winner in consumer drug packaging, and voted "consumer's choice" for new product innovation.
AccuDial will launch its Children's Pain & Fever with acetaminophen in five flavors: cherry, dye-free cherry, bubblegum, strawberry, and grape. All five Pain & Fever varieties are expected to be available online by September 2011 on Accuratedose.com, Amazon.com, Target.com, and Drugstore.com. For more information about AccuDial, visit accuratedose.com or call 561.429.6886.
The Edison Awards symbolize the persistence and excellence personified by Thomas Alva Edison, inspiring America's drive to remain in the forefront of innovation, creativity, and ingenuity in the global economy.
"More than any year, this year's award winners demonstrate the enormous value of teamwork, experimentation, consumer focus, and market awareness," notes Tom Stat, co-founder of Edison Universe. "These honored award winners show that by stimulating our natural curiosity, fueling our drive for discovery, and sparking our need to innovate, no challenge is too big and opportunities abound. Edison himself would be very, very proud."