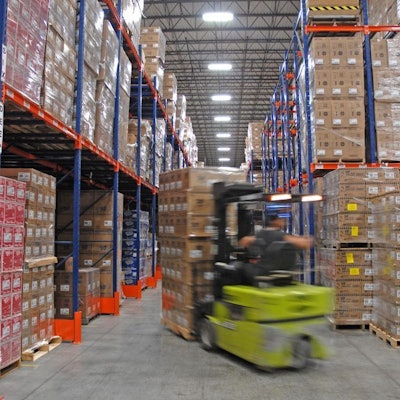 A major ice cream cone manufacturer, Joy Cone Co. recently undertook an overall modernization project at its warehousing/shipping facilities in Hermitage, PA, and Flagstaff, AZ. As part of that project, Joy Cone installed new bar-code printer/applicator systems developed by Peak Technologies (www.peaktech.com), a Platinum Equity Co., to optimize case label application efficiencies.
Joy Cone wanted to reduce operating costs by automating its warehouse and shipping functions. Peak responded with print/apply bar-code labeling systems outfitted with dual-tamp applicators that incorporate print engines and portable thermal desktop printers from Zebra Technologies (www.zebra.com). Dual-mode PCs from Xplore Technologies Corp. (www.xploretech.com) also were installed.
The new automated system applies labels on each shipping case's front and side for easy identification. The printer/applicators apply the labels without ever touching the cases—avoiding potential damage to the fragile cones inside the shipper packaging.
Joy Cone's director of logistics, Brent Fisher, says, "We saw an improvement in accuracy and inventory control overnight. In terms of tracking inventory for shipping, we went from having weekly out-of-stock products to having almost no out-of-stocks. We also increased our warehouse productivity by about 20 percent as a result of the entire warehouse automation project."
Companies in this article