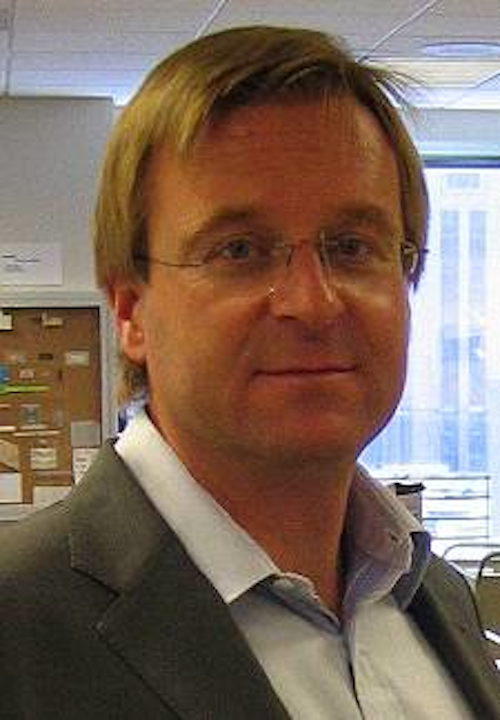 RFID Antenna is pleased to welcome our latest contributing editor, Ralf Saykiewicz. Ralf is vice president/solution architect, Technology Solutions Co. He possesses a European background and broad expertise in packaging and supply chains, along with a passion for RFID.
My road to becoming a true RFID believer and evangelist has lead me through many industries and many countries. It was a learning process that brought me to one conclusion—the current business model is not efficient and technology is the key to improvement.
I started my journey in the mid-90s in Central Europe where after the fall of Communism I was conquering the Brave New World of establishing a market economy. One of the assignments I worked on was the turnaround project for David S Smith Plc, one of the European leaders in packaging with products ranging from corrugated, board, specialty paper packaging through plastic pallets, returnable plastic containers, and slip sheets. While working on making Smith's Polish operations profitable I noticed that one of the main problems was the embarrassing inefficiency of the supply chain. Raw materials did not come on time, but also were not ordered when needed. Finished goods labeled for delivery to such significant customers as Unilever were sent incomplete. Pallets of goods never sent out to their recipients gathered dust in dark corners of the finished good warehouse.
Automation a solution
In the end the project was a success. My teammates and I managed to turn the operation around. However, I was left wondering about the inefficiency of a system solely dependent on human action rather than on a certain degree of automation.
The challenges of supply chain management brought me to my next project establishing one of the first real third-party logistics (3PL) operations in Central Europe, Hays Logistics. There I first encountered the might of wireless technologies in the supply chain, and it was there that I fell in professional love with the 0HIO principle—the Zero Human Intervention Operation. The efficiencies of automatic data capture and automatic process control made a true believer out of me. The convenience of using radio frequency to convey the data was truly impressive. There was no turning back for me—I became an RFID geek, and am proud of it!
Perils of RFID
RFID is by no means a magic wand that will instantly cure all business problems. If not implemented properly it may become more of a liability. RFID is a business tool to create greater efficiencies and support decision-making. It requires executives to look at the big picture in order to realize a return on their RFID investment.
When approaching an RFID implementation, one must consider of all the elements:
- Physical layer
- Data filtration and collation in middleware
- Integration of data into the backend system
- Data warehousing and business intelligence supporting the executive decision process
- Business process changes resulting from the implementation
All of the above are crucial elements of the equation and must be approached holistically. Successful integration of RFID into the existing business model requires an individual approach to each case. Out-of-the-box solutions, while low in cost, cannot guarantee success. Some readers work better in high or low temperatures. Certain middleware packages coordinate better with certain Enterprise Resource Planning packages, not to mention their unequal communications with RFID hardware. Out-of-the-box solutions in RFID are like trying to power your Chrysler Town & Country vehicle with diesel fuel—it will not work properly.
In RFID there is an appropriate frequency, an appropriate technology, and an appropriate data transfer model for any application. Making the right choices and looking at the big picture, rather than focusing only on compliance efforts, will insure successful and profitable implementations. After all, increasing shareholder value is the bottom line. RFID will do just that.
Tagging and packaging go hand in hand
In today's "slap and ship" environment not many notice the importance of packaging to RFID even though they go together like a horse and carriage. After all, smart tags and labels are carried on packaging. This is true for all levels: container tags, pallet labels, case labels and unit level tags are affixed to, glued to, or embedded into a wide variety of packaging.
The container becomes the carrier of information, be it in printed or electronic form. Currently smart labels are printed and encoded and then applied to packaging. This is a short-term solution because the speed of label encoding is hampered not by the RFID element, but by the slower process of thermal transfer printing.
In my opinion, before long RFID tags will become an integral part of packaging and will be applied by packaging manufacturers. The RF encoding can then take place at the end of the customer's production line. Thus, RFID and packaging go hand in hand. The future is coming at us like a freight train—we might as well jump on it, or it will run us over.
Ralf Saykiewicz, vice president/solution architect, Technology Solutions Co., can be reached at the phone number below. His e-mail is ralf_saykiewicz@techsol.com.
Companies in this article