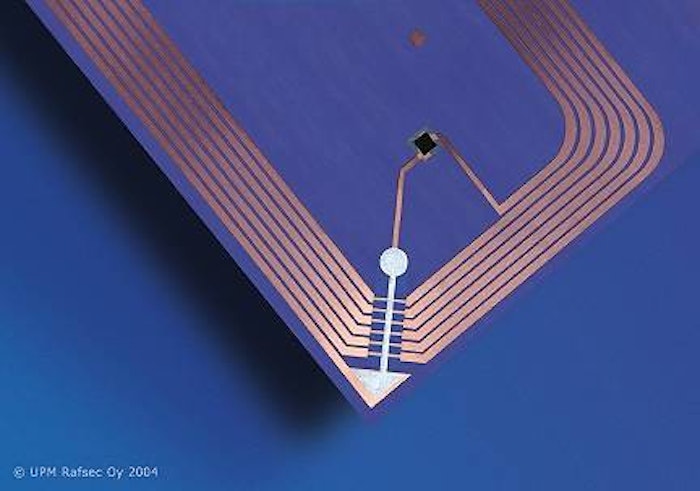 RFID tag manufacturer UPM Rafsec, a member of UPM Group, announced in mid-December its successful participation in Germany's Metro Group's RFID roll-out and in creating the first automatic pallet labeling device for UHF RFID tags for Nestlé. This solution facilitated by Nestlé was created in collaboration with SATO Deutschland GmbH, a manufacturer of label and barcode printers and a specialist in RFID and data collection systems. The company operates in the United States as SATO America.
Metro's mandate
Metro Group, one of Europe's most progressive retailers, started its RFID rollout in the first week of November. The mandate meant that since then, 20 of Metro Group's leading suppliers deliver many of their product pallets with RFID tags. These include Colgate-Palmolive, Gillette, Johnson & Johnson, Kraft Foods, and Procter & Gamble.
"Through its partner network UPM Rafsec has been able to supply the tags utilized by the majority of the 20 Metro Group suppliers," comments Samuli Strömberg, Business Development Director at UPM Rafsec. "Our product development team was able to participate in the first site tests and gain precious application knowledge to support its solutions provider partners. The UPM Rafsec Flag Tag is a one-of-a-kind, printer-friendly solution for tagging all pallets with just one type of tag. It is the only shipping label compatible tagging solution available on the market today that functions virtually for all applications."
DC plans
Nestlé is participating in Metro Group's broad-based RFID initiative and is now positioned to automatically label pallets of goods intended for Metro Group with fully functional UHF RFID tags, as one of the retailer's first suppliers. UPM Rafsec supported SATO's specialists who created, after intensive practical tests at Nestlé distribution centers in Lüdinghausen, the first functional solution for UHF RFID labeling. The new automatic labeling unit was due to go into operation at the Nestlé DC in Rangsdorf, Germany, last month.
The Flag Tag concept has been filed for patents by UPM Rafsec, which is headquartered in Tampere, Finland. UPM Rafsec announced in December the opening of North American RFID and technical support offices in the Chicago area in Westmont, IL.
Companies in this article