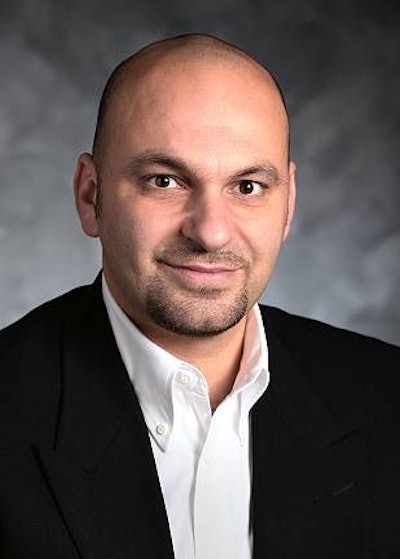 High-frequency radio waves, defined as 13.56 MHz, seem to be RFID's forgotten frequency in the United States. HF is largely ignored in the shadows of Wal-Mart's mandate for UHF (868 MHz to 915 MHz).
But not all attention is glued to UHF. Consider the following bits of information:
RFID isn't all about Wal-Mart.
HF is superior for item-level tracking such as for pharmaceutical applications.
Some believe that RFID for pharma will eventually "dwarf" RFID for Wal-Mart.

Shahram Moradpour (pictured), CEO of Cleritec, is an RFID expert formerly with Sun Microsystems where he managed projects with 450 partner companies. Moradpour will be conducting the "RFID Boot Camp" at next month's RFID World exposition.

"There are a lot of pharmaceutical companies leaning towards HF," Moradpour tells RFID Antenna. "HF can often be a better solution than current UHF technology for item-level tagging. A drug manufacturer isn't as concerned about a $1 RFID tag on bottled medicine that costs dozens of dollars. It's more important for them to track the pedigree of the product."

Pharma RFID concerns

UHF shortcomings such as low read rates have been noted. They were also uncovered during the Project Jumpstart pilot conducted by such pharmaceutical stalwarts such as Pfizer, Abbott Laboratories, and Cardinal Health.

Cardinal Health's director of business integration Pete Beckwith shared with us the fact that read rates can be "poor." One group of tests found read rates as low as 85%—and it took up to 15 minutes to read the item-level tagged packs inside a corrugated case. The cases contained more than 48 item-level tagged products. Other tests, for case counts fewer than 48, had reached 95% read rates. The results varied based on product packaging characteristics and environmental issues.

"There have been discussions among pharmaceutical companies about HF," says Beckwith, "and some retailers are talking about it. Since it works in close proximity, there's less chance that noise in the environment will create false reads. The trade off is that it may not operate well in distribution environments where speed is critical and proximity is not practical."

Could RFID for pharma indeed dwarf the Wal-Mart mandate?

"That could be possible," says Beckwith, "simply because pharma is looking at item-level tagging, while the Wal-Mart mandate is for cases and pallets."

For comparison, 2.1 million individual units pass through Cardinal Health's distribution system each day, which represents approximately 30% of the U.S. packaged pharma market.

Application specific solutions

"The suitability of the particular RFID technology to use depends on the product, package, and application," says Moradpour. "Mandates, which by definition must cover a very broad set of applications, can sometimes conflict with fit of the best technology to a specific application." That challenge is one the industry is up to and will resolve the conflict, one way or another, he adds.

EPCglobal's Electronic Product Code call to action is not really directly related to the Wal-Mart directive and doesn't necessarily rule out HF in favor of UHF, Moradpour points out. "Although Wal-Mart today requires UHF, it is possible that as technology continues to improve and RFID tagging in the supply chain matures, a heterogeneous environment of HF and UHF co-existing will be acceptable," Moradpour explains.

Specifically, Moradpour feels that an ideal compromise may be to tag cases and pallets using UHF technology and individual items using HF technology.

Cleritec

Phone: 408/406-1927

www.cleritec.com

Cardinal Health

Phone: 800/234-8701

www.cardinal.com
Companies in this article