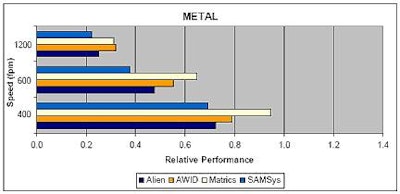 ODIN technologies released over the summer the RFID Reader Benchmark, a study of findings that pitted the top four EPC(electronic product code)-compliant radio-frequency readers against each other in a head-to-head analysis. The study provides critical insight into how well readers actually work in the field and what criteria should be evaluated when choosing a reader. It is the first scientific and objective comparison of how leading RFID readers work with various standard materials, ODIN says.
Exclusive information
ODIN also shared two charts (see graphics) exclusively for our RFID Antenna readers. One chart is of the four readers' relative performance interrogating a paper-based product, the other chart is of the four readers' relative performance interrogating a metal-based product. One of the study's conclusions was that the performance of the reader--not just the tag--differs depending on the product material being read.
"Selecting an RFID reader is a tough task which can make or break your RFID program," says Patrick Sweeney, ODIN technologies president & chief executive officer. "Until today, end users had to rely on manufacturers' claims and trial-and-error testing to select a reader. That was a painful process that often led to bad results. With the release of the RFID Reader Benchmark, suppliers for Wal-Mart, DoD, Target, and others now have an objective source for reader comparison."
ODIN's study research team is led by a 25-year RF engineering veteran and includes RF-trained physicists, a materials composition authority, and a distributed systems expert. "The research leverages our expert team and advanced testing labs to reveal the good, the bad and the ugly of reader performance," says Sweeney.
Study criteria
The study evaluates RFID readers from Alien Technologies, Matrics, SAMSys, and AWID. Each of the readers underwent the same rigorous testing with multiple materials. The report presents a side-by-side comparison of the readers based on the materials and performance criteria required by end users. Certain reader manufacturers were purposefully left out of this report based on impending new releases or sub-par performances; details are included in the report.
Chris Fennig, director of professional services for ODIN technologies, used his experimental physics background to oversee the analysis. "There is a great deal of confusion about how well the leading RFID readers work in the field," says Fennig. "The [study] cuts through the marketing spin and gives end users an objective, scientific analysis of how these readers work with materials most like their own. It is a handbook that end users can reference to accelerate their selection process and avoid costly risks that many early adopters faced."
The RFID Reader Benchmark includes the following:
A total cost of ownership analysis--focusing on the hidden costs of RFID programs and how each reader stacks up for a given application
Reader performance test results--ranking based on reader performance at a distance baseline and also with different common product materials
Connectivity analysis--evaluating the various readers' ability to connect to an enterprise network in a production environment.
Control analysis--determining how well a reader can be tuned to work in specific environments. Many issues that are blamed on "technology immaturity" are often the results of poorly tuned readers, antennas, and systems.

Copies of the RFID Reader Benchmark study are priced at $250 for a single copy, $500 for five copies, and $1ꯠ for an unlimited use enterprise copy. It is available in the bookstore at the ODIN technologies Web site.