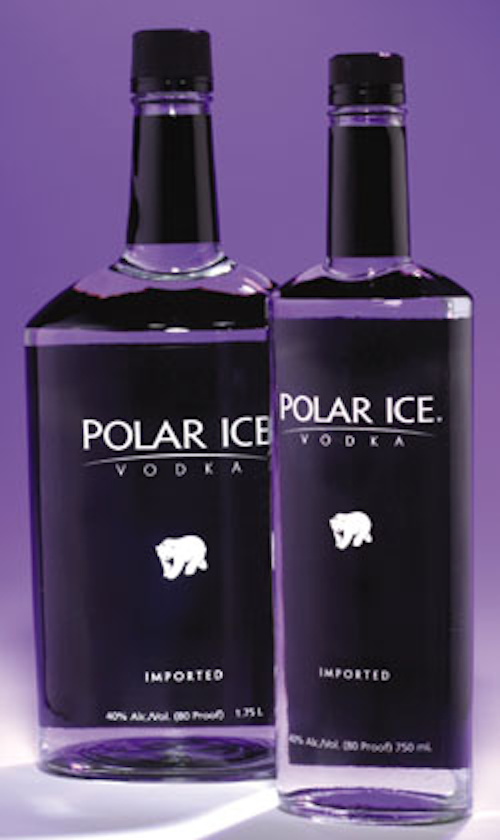 A clear, tapered 1.75-L glass bottle from Anchor Glass (Tampa, FL) is decorated with a black pressure-sensitive label and neck band from Spear Label (Mason, OH).
"No other vodka has this uniquely shaped bottle or the unique black back-panel label application," says Corby's Farzanah Mohammed. "This gives a 3-D effect possessed by Polar Ice only."
Corby designed the package with agency Pigeon Brands (Oakville, Ontario, Canada) to give customers a unique sense of style and sophistication that can compete against other premium vodka brands.
"The tapered body of the bottle elevates the package and makes it appear more premium, giving it better shelf presence as the bottle looks larger than those from competitors when they stand side by side," says Mohammed.
Spear Label screen-prints the 2-mil Crystal Fast Clear label from Flexcon (Spencer, MA) in black and silver. The neck band is printed solid black.
"The black in the package already had equity with customers who saw it as a unique quality to Polar Ice, and for vodka as a whole," says Mohammed. "We maintained this feature but made it more functional by allowing consumers to be able to see the product in the package with a clear bottle and black back label."
Labels are applied on an inline pressure-sensitive labeler at Corby. The application heads were modified to accommodate a larger surface area needed for the labels.
The 1.75-L bottle of Polar Ice retails for $20.95 in the United States, $21.25 in Canada. According to the company, initial market response has been overwhelming, making it one of the most successful new spirits launched by Corby Distilleries in recent years. —ES
For more Clear Choice awards see, 2002 GPI Clear Choice Awards.
Companies in this article