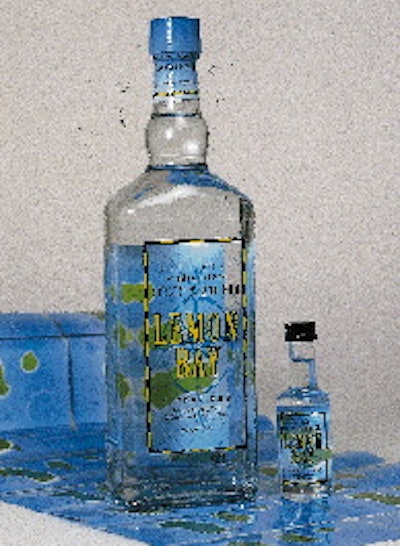 For a company that has used mainly glue-applied cut labels in the past, a clear, pressure-sensitive label employing the popular "no-label look" is quite a departure. John Oehmler, purchasing agent for Barton Brands, says the labeling gives the product a trendy, contemporary feel.
The front label is 2-mil polypropylene from FLEXcon (Spencer, MA). JR Cole Industries (Charlotte, NC) prints the clear label with a combination of screen printing and rotary letterpress in five colors plus a UV flexo varnish.
The p-s back label is a two-layer adhesive lamination. One layer is a 2-mil clear PP from FLEXcon reverse-printed by rotary letterpress in two colors. The printing depicts the Virgin Islands. The second layer is a 3.4-mil Primax® from Fasson (Painesville, OH). The Primax is a white opaque polyester printed in three colors on a rotary letterpress plus a UV flexo varnish. The two layers are laminated together on press and die-cut in line. When applied to the bottle, the label's back carries descriptive copy and a bar code, while the opposite side, which shows through the clear bottle and its contents, depicts the Virgin Islands. The colorful design carries through to the polyvinyl chloride neck band, gravure-printed by American Fuji Seal (Bardstown, KY).
Available in 50-mL, 750-mL and 1-L bottles, Lemon Bay has been on the market nationwide since July. Although a mid-summer release is considered late for white goods like rum and vodka, Oehmler says the initial response to the new product has been promising. He looks to next spring and summer for a pickup in sales. Retail price for the 750-mL bottle is $9.99.
Companies in this article