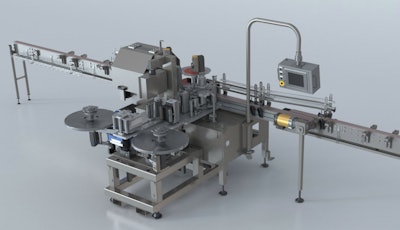 Accraply, a Barry-Wehmiller company and designer and manufacturer of label application systems, highlighted its Trine Modular Labeling Station for the food, beverage, and consumer products industries. Designed to integrate quickly and seamlessly with existing Trine labelers, this upgrade was engineered to improve throughput, simplify changeovers and operation, reduce maintenance costs, and improve label appearance.
The Trine Modular Labeling Station, as an easy-to-install system to reduce downtime, can both be retrofitted to an existing Trine labeling system or be used with a new Trine system. The upgrade was further designed on feedback from the company's existing customers.
"You can slide this whole module into your Trine machine," says Troy Peterson, Trine product line leader, Accraply. "It gets rid of all the chains down below on your existing Trine machine you have these new servos on top, so it's all above the deck. So, any water or product that would get down below the deck would no longer get on any chains or motors down below."
The labeling station includes Accraply's SmartLink HMI, a next-generation controls platform with efficiency reporting, preventative maintenance alerts, self-diagnosing software, video tutorials, and onboard parts ordering. This HMI simplifies operation and increases throughput.
In addition, the Trine Modular Labeling Station includes improvements to maintenance, safety, and waste reduction. The large diameter glue roll eliminates glue slinging and reduces vacuum drum cleaning time by 50%. The self-timing, servo-driven system includes fewer moving components and wear parts than previous Trine labelers, reducing the need for replacement parts and operator adjustment.
Further features include a dual unwind system with an auto-splice system and a new cutting system that allows a company to cut 22-inch long labels for gallon jugs.
Companies in this article