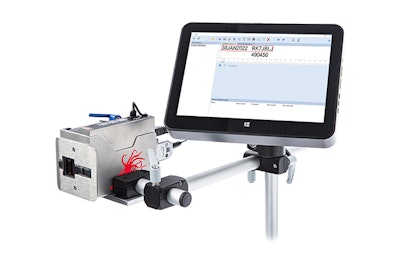 Squid Ink Manufacturing, Inc., a manufacturer of coding and marking systems for product identification and traceability, introduces the Viper thermal inkjet printing system designed to print superior quality hi-resolution characters on porous surfaces and non-porous surfaces. The Viper offers a versatile yet cost-effective solution for coding and marking applications with up to 0.5" (12.7mm) of print height per printhead.
Viper TIJ utilizes hi-performance Funai® no-mess ink cartridges to print up to 600 dpi hi-resolution codes on a variety of porous and non-porous surfaces, including wood, coated and non-coated stocks, polystyrene, films, foils, and several other substrates. The Viper is ideal for users looking to print permanent marks that dry in seconds on glossy cartons, cases, trays, plastics, and more. The standard system runs at speeds up to 60 m/min (197 fpm) at 300 dpi, or the software can be upgraded to run at up 240 m/min (787 fpm) at 300 dpi.
The Viper TIJ printing system features an 8.9" full-color touchscreen PC that gives users access to the printer's internal messages and print functions. The touchscreen allows users to create and edit messages using Squid Ink's intuitive Sirius™ PC software. It is ideal for users who want message creation and editing functionality on the production floor. For users that print on many different products, the system features 2GB of storage, allowing users to program and save thousands of messages for easy print recall. Best of all, the Viper includes fully functional software out of the box that allows users to print date codes, lot numbers, bar codes and graphics needed for most coding and marking applications.
The printer's durable touchscreen, industrial strength printhead construction, and compact footprint make for easy integration onto an existing production line. The Viper also features quick-change ink cartridges, allowing users to swap ink cartridges in a matter of seconds allowing users to keep their line running, reducing downtime, and maximizing ROI.
To view the demo in its entirety (available through March 31, 2021), and add Squid Ink to your MyConnects Planner, click here.
Companies in this article