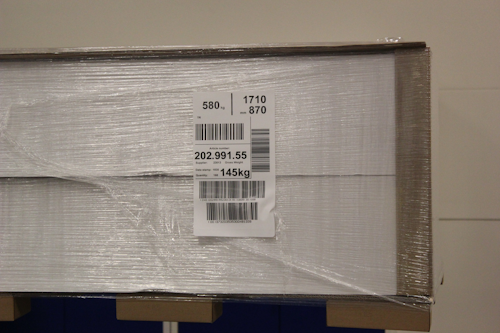 Swedish fixtures and fittings manufacturer PG&WIP marks more than 20 million aluminum, plastic, and paper components annually for a major Swedish furniture company. To meet the track-and-trace requirements of their high-profile customer, PG&WIP must code all parts with a production site number. The component mounting instructions, the consumer package, the multipack, and finally the pallet also need to be coded.
With the aim of building a highly automated production facility with the latest technology, PG&WIP was eager to automate as much of the coding process as possible. This resulted in them moving from their existing coding supplier to Domino Printing Sciences.
Says PG&WIP Technical Manager and co-partner Håkan Östangård, "With our focus on new technology and innovation, we found Domino's automated solution a perfect fit for our business."
PG&WIP uses Domino's newest continuous ink-jet (CIJ) printer, the Ax350i, to code its subcontractor number on all handles on kitchen fittings. The products' mounting instructions are marked by a G-Series thermal ink-jet printer, and the consumer packaging is labeled using the M230i-T4 print-and-apply labeling system. This is mounted on a sliding crossbar to label three products next to each other with one machine.
Smaller curtain-mount details are also coded with an ink jet-solution from Domino and then placed in plastic flexible packaging marked by the V320i thermal transfer overprinter (TTO). All consumer packages are then placed in multipacks and marked with the C6000 large-character piezo coder for secondary packaging, before the M230i-P150 prints and applies pallet labels. The data on the labels is then sent to the existing ERP system.
Pallets are scanned before being picked up by automatic forklifts and placed into trucks. By coordinating coding from product to pallet, the number of errors has significantly been reduced, and all data is stored for full traceability in the ERP system.
Domino's QuickDesign message design and print control system seamlessly feeds into PG&WIP's existing ERP system, removing human error from the code selection process. Using the configurable operator interface, operators can now select any product on an iPad, and QuickDesign then sends the relevant information to all machines in the facility, ensuring all products are correctly coded.
Says Östangård, "Adopting Domino's all-inclusive approach to our coding output has had a significant impact on the growth of the company, and we are currently turning over 800,000 Euros per employee."
PG&WIP has also signed up to Domino's SafeSupply, which provides a fixed rate for the consumables it needs to keep its production going. As a result, the company can carefully monitor its stock to minimize expensive, unplanned downtime.
Companies in this article