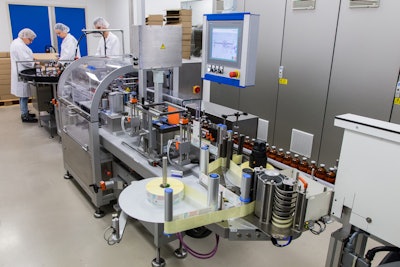 What do you do when your business is expanding, but your inline labeler creates a bottleneck, with set-ups and fine adjustments taking too long?
For Produlab Pharma b.v., an independent contract manufacturing organization (CMO) for veterinary pharmaceuticals located in the Dutch town of Raamsdonksveer, the simple answer was to upgrade its labeling equipment. The process, however, required a thorough examination of labeling machinery and suppliers.
The CMO has earned a reputation for quickly and reliably converting its production between a range of products, with customers taking value in Produlab's flexibility and individual client focus.
"We work strictly made-to-order," says Joost Kool, Project Manager at Produlab Pharma. To illustrate that, he explains, "Three-hundred bottles of a vitamin preparation for Bulgaria, then 15,000 bottles of antibiotics for Germany, then another two mini-batches for the Greek market. We're manufacturing a wide range of products in varying quantities, then labeling and packaging each to be ready for their respective markets. Understandably, time and precision are extremely important to us."
The CMO's executive team realized that its customers had a growing need for increased speed, flexibility and efficiency. Add to that looming serialization and track-and-trace regulations, and Produlab Pharma knew its labeling search had to pinpoint equipment that would meet these demands.
After a thorough examination of several competing labeling machine providers, Produlab Pharma chose a high-speed 132M HC Wrap-around Labeler from HERMA. The machine fits into Produlab's production line behind a cleaning system, a sterilizing tunnel and a filling station.
Kool explains, "With the installation of the 132M HC wrap-around, we have become faster and more flexible—and we appreciate the fact that all necessary printing and control systems are already integrated."
The machine uses a rotating starwheel for precise product transport. It handles containers and glass bottles from 16 to 80mm in diameter at speeds of up to 300/min. The labeler can be outfitted with a range of printing and vision systems, providing automatic rejection of out-of-specification labels before they are applied.
Meeting a growing market
Produlab Pharma's growing business fits into an increasingly robust global veterinary market. A recent MarketResearchReports.biz report predicts the veterinary drugs market will rise at a Compound Annual Growth Rate of 5.1% through 2024. Behind the growth says the report: an increase in pet ownership, greater spending in heathcare for companion animals, and a demand for quality proteins.
To meet this growing demand, Produlab Pharma produces solutions, suspensions, ointments and creams in sterile or non-sterile forms. These are filled primarily into glass bottles, and only on rare occasions in plastic bottles. Glass bottles, the company believes, remain the preferred choice as they do not carry the risk of reacting with medications. The company does acknowledge that molded glass can be problematic during processing, as glass naturally has small irregularities and often contains differing fill-level markings—yet must be reliably and precisely affixed with standard and booklet labels.
"We used to have machine downtime on occasion, but since time is money, we were looking for a way to avoid this," explains Kool. "When our labeling machine was at a standstill, it delayed the entire line, which should ideally be running 10 hours per day."
Since the installation of the HERMA 132M HC, the different medication bottles now run through much faster and with less complexity. "The machine we were using required extensive user knowledge," notes Kool. "But now the handling is much more reliable and easy. Adjustments during operation are no longer necessary."
Quick format changes
As is the case with virtually any CP, quick changeovers are vital for any packaging machine. With the HERMA 132M HC, a format change now takes Produlab Pharma only about 15 minutes. That's key because the company currently processes 14 different bottle formats and typically conducts five batch changes every day.
Produlab Pharma also integrated a special control feature in the labeling process: An invisible printed DataMatrix code, is read by optical camera recognition (OCR) to confirm that the right label has been applied. The label is then printed with a batch number, which also is checked for correctness via camera. Any potential misprints get separated so ensure they are not applied to a bottle.
The ERP connection of the machine is comprehensive, with made-to-order machine settings. When an order is started, the corresponding devices, such as printers and camera monitors, are activated and set automatically.
Modular design lends versatility
The HERMA 132M HC wrap-around labeler's modular design ensures versatility while offering a variety of options for implementing individual equipment requests, such as choice of printing systems for variable data and camera systems for print and code control.
Another advantage of the modular design is that users can adapt the 132MHC to all required cylindrical product formats in just a few steps. At Produlab Pharma, the product portfolio comprises bottles ranging in size from 23 mm in diameter and 46.8 mm high, to bottles 68 mm in diameter and 136 mm high – each with different label formats and types.
"The installation of the HERMA 132M HC wrap-around has been a real boon for Produlab Pharma," says Kool. "And since business is running well, and we have to resort to overtime on occasion, we are planning to convert to a two-shift operation. We are confident that the HERMA labeling system is ideally suited for this increase in productivity."
Companies in this article