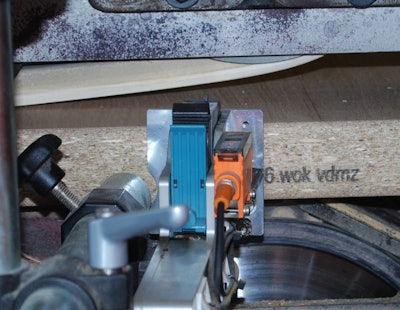 JELD-WEN, a supplier of quality doors, windows, and stairs, recently upgraded its coding and marking solutions with the installation of Domino's coding automation software, QuickDesign Unite, and a G220i thermal ink-jet printer. According to JELD-WEN, the combination of the two technologies has not only improved the quality of their printed messages on doors, but also helps automate the coding process throughout the production line, which eliminates the possibility of coding errors, thereby reducing waste and potential rework.

Founded in the 1960s in Klamath Falls, IA, JELD-WEN today has 20,000 employees in the U.S., Europe, and Australia. JELD-WEN's U.K. headquarters are located in Sheffield along with its door production facility. The U.K. business also operates another three sites across the country: two factories in Melton Mowbray—one focusing on windows and patio doors and the other on stairs—and a factory in Penrith that specializes in the assembly of veneered, foil, and molded internal doors.

Key in streamlining JELD-WEN's production process was QuickDesign Unite, Domino's coding automation solution that enables the user to bring all coding technologies under central control, and in doing so reduces training needs and chances for error. One of the company's objectives was to have a common software platform across all of its U.K. sites. Following a successful installation at Penrith, the solution has been deployed at Sheffield.

According to John Dillon, Production Manager at JELD-WEN, the most outstanding benefit of QuickDesign Unite is the way that it seamlessly ties in with the door supplier's ERP system, which makes production orders automatically available to the operator. QuickDesign's scripting language is used to process the data in the production file and create an order for each record. The same ERP system is also used to generate the production sheet employed on the factory floor, meaning that the reported data will be identical to the information imported into Domino's coding automation system. This process reduces both setup time and the possibility of input errors.

"We trialed other products, but none of them worked as well with our corporate software as Domino's solution," explains Dillon. "It was simple to install, is easy to use, and has been a big asset in helping us automate our production line. There is virtually no downtime with QuickDesign."

Earlier this year, JELD-WEN turned to Domino for a solution that would guarantee near letter quality while printing onto its new production line of veneer doors.

Explains Dillon, "We have to take precautions when printing onto veneer wood, as regular ink reacts differently when it comes into contact with this surface. The G220i was the ideal choice for us not only because thermal ink-jet is compatible with all JELD-WEN substrates including veneer, but also because Domino's technology is highly reliable and very low maintenance."

Domino's G-Series i-Tech thermal ink-jet printer can meet a wide range of applications and has the ability to run up to four print heads for a maximum print height of 50.8 mm. It can print numerous TrueType fonts in a variety of heights, as well as industry-standard barcodes and code formats for enhanced traceability.
"We conducted a variety of tests before finalizing the installation, and we're pleased to say Domino lived up to our expectations," continues Dillon. "The speed, print quality, and compatibility of the G220i with our substrates was exactly what we were hoping for."

He also emphasizes the precision of the exact drop placement provided by the system's print heads: "We need to be able to print specific information onto very small surfaces, which obviously means that accuracy and legibility are pivotal for this type of function. Fortunately, the G220i answers all of these demands, and the presence of retractable print heads make it the ideal solution for continuous coding applications where we need to print on doors of various sizes without risking any damage to the print heads.

"We've been very satisfied with the quality of service and support provided by Domino, and we're confident that this recent installation will only strengthen further our long-standing relationship."
Companies in this article