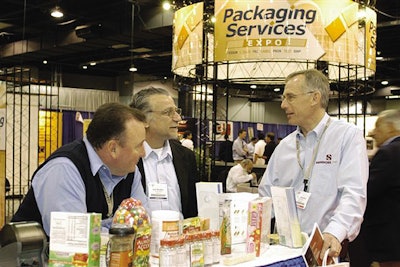 For professionals who manage and influence how products are packaged, the current emphasis is knowing not only the packaging materials options available to them, but how best to use them together.
The segments that make up this mammoth $119 billion end of the $125 billion packaging business are materials, containers, and services. These segments are the targets of Packaging Summit 2006, an ambitious, multifaceted exposition and conference. It is designed to expand on the success of Packaging Services Expo (PSE) 2005, which launched to solid reviews in May.
Packaging Summit 2006 will be May 16-18, 2006, at the Donald E. Stephens Convention Center in Rosemont, IL. The event has the support of many packaging associations, and it will include three major components, each operating independently in three different halls under the same roof:
• Packaging Containers & Materials Expo (PCME), a new event.
• The Packaging Summit Conference (PSC), also a new event.
• Packaging Services Expo 2006. This will be PSE's second year.
By holding all three events concurrently, the appropriate atmosphere is established to highlight only materials, containers, and services, according to Tarsus Group plc, which is organizing the event in cooperation with Landon, Farrey & Associates. The event will exclude machinery and systems.
Between PCME 2006 and PSE 2006, the show organizers hope to generate a total of 400 exhibitors.
"The 2006 concept is built on the successful launch of Packaging Services Expo 2005," which was produced by Tarsus Group, said Douglas Emslie, Tarsus Group managing director, in announcing the show at a press luncheon in June 2005 in Rosemont. "The goal is to produce a complete educational program and trade exhibition taking place in a relaxed and pleasant business atmosphere."
"The key is to launch a series of packaging events, with packaging association support, that is broader, more dynamic, and different than any other packaging trade show or conference," added Ed Landon, principal at Landon, Farrey & Associates.
Individual components of Packaging Summit 2006 include:
• Packaging Containers & Materials Expo. The event will feature companies involved exclusively in containers and materials, and it will focus on developments in packaging.
PCME is being created in cooperation with the Flexible Packaging Association, the Paperboard Packaging Council, Tag & Label Manufacturers Institute, National Association of Container Distributors, Tube Council, and Glass Packaging Institute.
The expo will target professionals who manage and influence how products are packaged. The target audience has a voice in material and container issues, as well as in both structural and graphics choices.
Exhibitors will offer the latest advances in containers and materials technology across a wide range of diverse end-user industry sectors.
In addition, PCME will focus on the role of innovative technologies in paperboard, plastics, label technologies, and other packaging materials. The expo will also incorporate containers such as cartons, jars, and bottles, spotlighting new technologies in closures, pumps, sprayers, and fitments.
• The Packaging Summit Conference. This educational event, focusing on the "Power of Packaging," is being developed in partnership with the Institute of Packaging Professionals (IoPP). Plans were in the early stages, but Jim Peters, director of education for IoPP, said the PSC will include a number of "heavyweight keynoters" and that a series of concurrent educational tracks will enable attendees to choose specific presentations to generate ideas and take them directly to the trade show floor. Presentations will cover topics of interest to attendees working in containers, materials, contract packaging, and services.
"People buying contract packaging services are becoming more savvy about how to buy them and are looking for more information on how to buy these services," Peters said in explaining the genesis of PSC.
• Packaging Services Expo 2006. The 2006 version, like the inaugural 2005 expo, will be developed as a niche show in cooperation with the Contract Packaging Association and the International Safe Transit Association. Its target audience is centered on contract packaging services, such as key decision-makers looking to partner with contract packagers and manufacturers, packaging consultants, research firms, package designers and marketing agencies, package-testing labs, logistics, warehouse and distribution companies, package prototype developers, and quality assurance and compliance specialists.
Exhibitors will offer the latest in manufacturing and packaging technology services. Visitors will have the opportunity to find outsourcing partners to handle challenges such as new product launches; product recalls; upsurges in product demand, product or packaging compliance; specialist filling; packing; labeling expertise; and fulfillment services.
Contract Packaging magazine, a sister publication of Packaging World, will be a media sponsor of PSE 2006.
PSE 2005 drew 105 exhibitors and 1귔 attendees, including both contract packagers and professionals who evaluate and purchase co-packing services. Representatives from product manufacturers including Procter & Gamble (P&G), Estée Lauder, Alberto Culver, Bacardi, Clorox, Sara Lee, Cadbury Schweppes, 3M, Johnson & Johnson Consumer Products, and Quaker Foods were seen walking the show floor.
Tom Youkilis, group purchasing manager at P&G, summed up PSE 2005 with this observation: "I thought this was a great show. As we continue to use third-party manufacturing and packaging more and more, we will want to see a healthy industry able to meet our needs. I am already looking forward to next year. As I meet with my suppliers and potential suppliers, I will be directing them to consider next year's event."
Through early August, nearly 70% of the exhibitors at PSE 2005 had contracted to participate in PSE 2006, said Don Browne, PSE show director.
Besides the two expos and the conference, Packaging Summit 2006 will feature a "Hall of Packaging Excellence." The participating packaging associations will display their most recent award-winning packaging.
Looking further into the future, Packaging Summit's organizers hope to take the event more international in scope. The budding event gained a major worldwide endorsement in June when the World Packaging Organization selected Packaging Summit 2007 as the home for its 2007 annual meeting.
Companies in this article
Videos from Universal Labeling Systems, Inc.