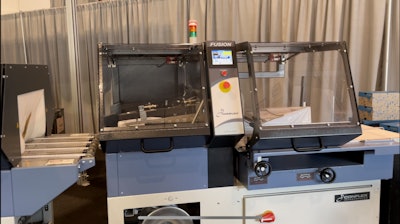 Conflex Incorporated, a provider of shrink wrap machinery for industries ranging from food and beverage to consumer goods to medical and pharmaceutical, displayed two machines on the show floor at PACK EXPO Las Vegas. The first was the Fusion L-bar series wrapper for e-commerce applications, which operates at medium speed, and is an automatic wrapper that also uses the company's vortex shrink tunnel, designed for low electricity usage, with Archimedean airflow technology, and complete with a viewing window.
The company demonstrated Clysar's fully recyclable, Evo-C confidential film on the wrapper. Following Amazon requirements, the company would not be placing a box of product inside another box for transportation, but instead uses the opaque shrink wrapped film for that needed layer of protection.
"You've got product that potentially reaches a consumer's porch and it's fully contained, opaque, confidentially wrapped, and ready to take on any kind of weather elements that a package might see," said Joe Morrissey, CEO, Conflex Incorporated.
The second product was a high speed shrink application, also running recyclable film, called the Fusion Sync continuous motion side seal wrapper, intended for contract packaging and consumer goods applications where a wide variety of products are being run per day. Conflex featured an Allen-Bradley full controls package as well as a full Allen Bradley electrical panel.
Companies in this article