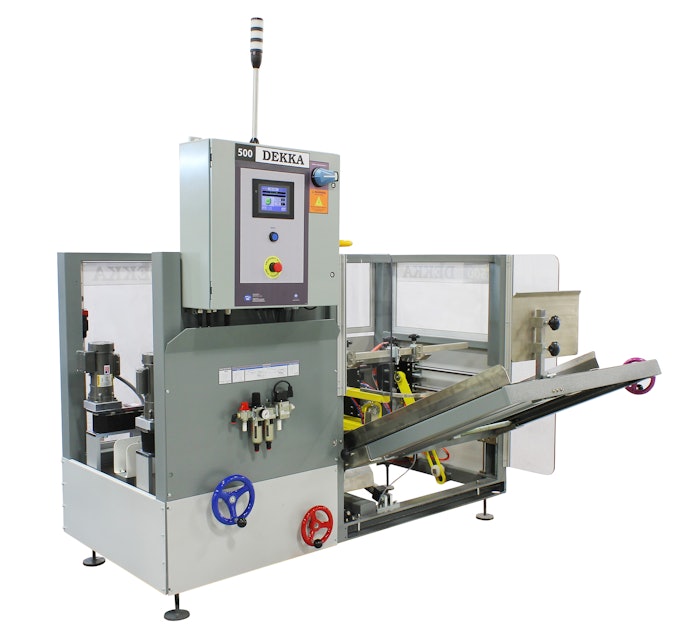 DEKKA, powered by Pro Mach, announces a new entry-level case erector system that makes upgrading to a fully automated system an easy choice, even for operations with a tight budget. The new DEKKA 500 Automatic Case Erector delivers extra production efficiency, up to 10 cases per minute, an easy to operate system user interface, easy size adjustments, and reliable tape application.
The DEKKA 500 is ideal for manufacturers operating low-speed lines that, until now, have found automatic systems to be cost prohibitive. One person can easily operate the DEKKA 500 with its intuitive HMI controls and handy color-coded on-machine instructions that outline case size changes and setup. The machine features a durable, high performance DEKKA tape head for quick change (30 seconds or less) tape loading, exclusive "No Break" tape advance, and unbeatable tape sealing reliability and efficiency.
"The DEKKA 500 is based on a simple to use, well-proven design that has served numerous light manufacturers, food processors, and health and beauty companies operating slower speed, automated lines," said Sander Smith, DEKKA Product Manager. "This is the second in a series of compact tape packaging machines based on the renowned DEKKA tape head that offer customers increased productivity at an affordable investment."
Since 1999, DEKKA has sold and installed thousands of its premium tape heads in a wide range of case sealers and erectors. DEKKA's robust, easy to maintain tape head delivers long lasting reliable performance and real-world practicality to many manufacturing and packaging operations worldwide. DEKKA products are backed by a large aftermarket support and service network.
The DEKKA 500 will be exhibited by Wexxar, powered by Pro Mach, at Pack Expo International, November 2-5, in Booth 5331, North Hall.
Companies in this article