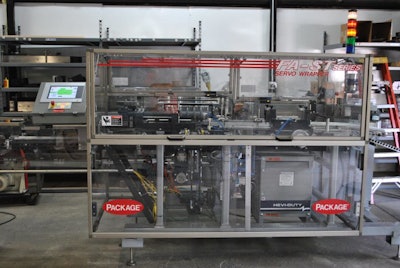 Package Machinery Company, PACK EXPO Booth C-2436, is a provider of cutting edge wrapping machinery that brings operational efficiencies to consumer products companies.  For example, overwrapping uses the least amount of energy and wrapping material compared to other wrapping methods.
Therefore, the company encourages consultations with buyers to evaluate whether overwrapping is the most effective solution for their specific application.  Possible wrapping materials include BOPP films and laminates, biodegradable films, waxed paper and paper. 
Their equipment ranges from inline machines that can wrap large bundles to the FA-ST servo overwrapper with speeds up to 180 per minute.  Their machines can be customized to wrap trays, boxes, cards, candy and food among other items.
While the bulk of PMC's business is for shelf ready products, they also offer bundling machinery for secondary packaging. This enables companies to reduce the weight of their secondary packaging and cut their costs.
Package Machinery has been a leader in applying new technology to wrapping. Package was first to market with a servo driven overwrapper. They are now on our fourth generation of servo technology, partnering with B&R Industrial Automation, Booth S-5623.
Servo functionalities include elevator, knife and pusher/tucker.  Optional servos functions include infeed, film feed, overhead transport, high speed tuckers, notcher for teartape and auxiliary collation for bundles.
Package Machinery has applied B&R's modular software platform to handle the changing needs of their customized machines, including PackML.
Visit Package Machinery Company to see the FA-ST servo overwrapper at PACK EXPO Booth 2436 in the Central Hall.
www.packagemachinery.com
Email sales@packagemachinery.com or call +1.413.732.4000 to schedule a meeting at PACK EXPO.
Companies in this article