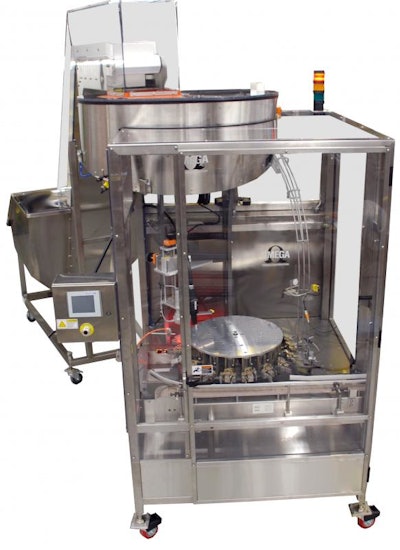 Omega Design Corp. offers the Servo-controlled Rotary Pocket (SRP) Bottle Unscrambler. The machine features patented rotary pockets and delivers unmatched unscramble performance.
The SRP Bottle Unscrambler provides speed, precision, and expandability while positively handling printed or pre-labeled bottles at speeds in excess of 300/min. The machine is versatile enough to handle various shapes of bottles ranging in size from fractional oz to 32 oz. Changeover between runs is quick and simple. Omega's change parts provide bottle specific material handling to ensure your next run is as successful as your last.
The SRP Bottle Unscrambler, which is fully automatic and can operate at variable speeds, includes patented self-adjusting rotary pockets, Allen Bradley controls, stainless-steel frame, clear guarding, and noise reduction. Features such as electromechanical positive-break safety interlocks, easy-load floor level hopper design, flow-track elevator, and rotary disc-style sorter also come standard, and the machine's touchscreen interface displays a product menu that helps make operation streamlined and intuitive.
Available options for the SRP Bottle Unscrambler include tool-less changeover, motorized adjustments and up-sized hoppers as large as 150 cubic ft. Low-level hopper detection, adjustable sort disc, and frame are other possibilities. The machine also can incorporate a variety of supplementary systems, such as those designed for ionized air rinsing, printing and coding, inspect-and-reject, or desiccant feeding.
The Servo-controlled Rotary Pocket Bottle Unscrambler is fast, functional, and flexible, and provides industry-leading OEE. Omega Design's patented rotary pockets are a major factor behind the SRP's successful design, day-to-day operation, and attractiveness as a forward-thinking piece of equipment that can be easily expanded and built upon to accommodate evolving needs.
Companies in this article